INTERVIEW: Cabinet working on stable child support, minister says
In the face of declining fertility rates, the government plans to expand childcare support and encourage people to have more children, as long as it is able to bear the financial cost, Minister Without Portfolio Lin Wan-i said in an interview with 'Liberty Times' (sister newspaper of the 'Taipei Times') staff reporters Jennifer Huang and Rachel Lin
Liberty Times (LT): There were early warnings of the trend toward having fewer children. Has the government reacted too slowly?
Lin Wan-i (林萬億): Taiwan had its highest fertility rate between 1946 and 1964, during the post-war baby boom. During that time, each woman gave birth to an average of five to seven children, as the nation's agrarian society depended on labor.
However, between 1965 and 1983, Taiwan entered the industrial age and the fertility rate dropped to between 2.1 and 3.8 children per woman. As Taiwan transitioned into a service-based economy, it further dropped to between 1.7 and 2.1 children per woman.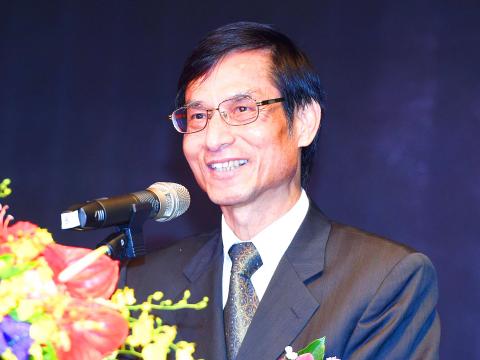 Minister Without Portfolio Lin Wan-i speaks at an event in Taipei on Nov. 25.
Photo: Liao Chen-huei, Taipei Times
People who were born during the age of high fertility constituted a formidable labor force and created a demographic dividend, but in 2002 the total fertility rate dropped to 1.3 children per woman. It took less than four years for the fertility rate to drop from 1.7 children per woman to 1.3 children per woman — like going down a slide.
Ten years ago, when then-president Chen Shui-bian (陳水扁) asked me to take up the position of population policy convener, there were already plans to address decreasing childbirth and immigration. In 2002, the Gender Equality Labor Act (兩性工作平等法) established parental leave.
The total fertility rate needs to remain at more than 2.1 children per woman to maintain a balanced population structure and it needs to increase to 2.9 children per woman to drive economic development.
France encouraged childbirth very early on and the country's subsidies do not exclude the wealthy. Its birthrate has always stayed at about 2.1 children per woman.
Under Japanese Prime Minister Shinzo Abe's "three arrows" approach, Japan's birth rate has also gradually returned to 1.8 children per woman, from 1.4 children per woman before the policy.
In 2000, Germany's total fertility rate dropped to 1.3 children per woman. It only gradually increased after the German government raised parenting subsidies across the board, expanded public childcare and increased parental leave.
LT: Cities and counties are competing to raise childbirth subsidies and all sorts of other subsidies. Have their attempts to raise the fertility rate been effective?
Lin: To increase the fertility rate, most countries would adopt cash payments — childbirth, parenting, childcare and other subsidies, childcare support — childcare, early childhood education and others, parental leave including maternity leave and others, and social benefits — friendly workplace environments, priority in social housing and others.
The Executive Yuan is consolidating subsidies for children aged up to five in different localities, but while birth rates in counties and cities grow and decline, the total fertility rate has still not increased. There are probably some "welfare migrants," who move to neighboring cities or counties with higher subsidies to give birth and live there, but the overall effect is limited.
Internationally, long-term and stable parenting subsidies or childcare support are more important, and these are also more effective in terms of raising the fertility rate.
On top of that, countries provide parental leave options, workplace flexibility and childcare support, and some even provide public housing priority and other benefits — France has in fact maintained a higher birth rate for these reasons.
Taiwan's parenting subsidies for children aged up to two are NT$2,500 and the wealthy are excluded, while in Japan, children aged 15 or younger all qualify for child subsidies. In Germany, child subsidies can continue until the age of 25.
Looking at childcare, Japan has achieved a 90 percent admission rate for children aged up to five years old, 60 percent of whom are accommodated at public institutions.
In France, 100 percent of children aged three to five are admitted into public childcare institutions.
In Germany, the admission rate for children aged three to five has also reached 94 percent.
LT: The government is consolidating resources. How does it plan to raise the total fertility rate more effectively?
Lin: The government provides financial support for children aged five to six to attend preschool free of tuition. The admission rate can surpass 90 percent.
However, for children aged three to five, the admission rate is only 50 to 60 percent.
The government plans to add more than 30,000 spots in public childcare within four years. It also plans to increase the penetration rate of preschools and to increase the admission rate to 90 percent. In terms of the ratio of public to private preschools, the government hopes to gradually adjust it to 4:6 or even 5:5.
If the government budget allows, parenting subsidies could also be extended to a larger slice of population. Counties and municipalities are raising their subsidies for private preschool enrollment, but those schools' prices cannot be controlled. If the expenditures were used to establish more public preschools, that might be more economically beneficial.
The Executive Yuan and its divisions are busy consolidating funds and making calculations in hopes of achieving the greatest effect despite limited finances.
The government is also going to improve workplace friendliness toward young mothers through measures such as breastfeeding rooms, flexible work hours and affiliated childcare facilities.
Workplaces that do not discriminate against pregnant women or women will be eligible for "friendly workplace" certification. In other countries, there are many such "friendly" stores and banks.
LT: Beginning in 2015, the workforce has started decreasing by 180,000 people annually from its peak. Labor shortages are already making themselves felt. In terms of the government recruiting people and talent, what are the possible directions and challenges?
Lin: After Taiwan's population reaches its forecast peak in 2024, it will quickly decrease starting in 2025. If you discuss talent recruitment, it is impossible not to discuss immigration policy. Domestic industries have been relying on more than 600,000 foreign migrant workers.
Meanwhile, our immigration policy allows less than 20,000 or 30,000 people per year to immigrate through marriage or as dependents, and the restrictions on labor immigration are relatively strict.
However, if the nation needs forward-looking talent i, it should not only let technical workers come over to work, but also let them stay and even let their children live in Taiwan.
For example, Taiwan's long-term care relies heavily on 240,000 foreign caregivers. They are allowed to work in Taiwan for a maximum of 14 years and many of them are highly experienced and skilled. Taiwan should welcome these people to stay and continue to provide services, or even to open long-term care facilities by themselves.
The Executive Yuan will soon discuss planned labor immigration and it plans to begin recruiting from countries targeted by the New Southbound Policy.
Agriculture, fishing and the long-term care are experiencing severe labor shortages and might consider recruiting foreign students from high schools, vocational schools and technical colleges.
Such industries could also recruit foreign students to attend nursing, agricultural and marine schools in Taiwan, allowing them to learn and obtain skills, improve their language abilities and adapt to local life.
After they graduate, they could be given work visas and if they do not violate the law within six years or another legally mandated period and their skills meet industrial needs, they should be given the option to immigrate or stay permanently.
Translated by staff writer Sherry Hsiao
Comments will be moderated. Keep comments relevant to the article. Remarks containing abusive and obscene language, personal attacks of any kind or promotion will be removed and the user banned. Final decision will be at the discretion of the Taipei Times.