Overtime and rest exceptions to be 'very rare' under new labor law, Cabinet says
Ahead of a protest against planned amendments to the Labor Standards Act (勞動基準法), the Cabinet yesterday said that the revision would only ease overtime restrictions for certain industries.
Labor rights groups are to stage a large-scale protest tomorrow against the draft amendments' clauses that would cut the minimum rest time between shifts and raise the maximum number of consecutive days people can be made to work — under certain conditions.
To allay concerns, the Cabinet called a news conference to address "misunderstandings" among the public about the amendments.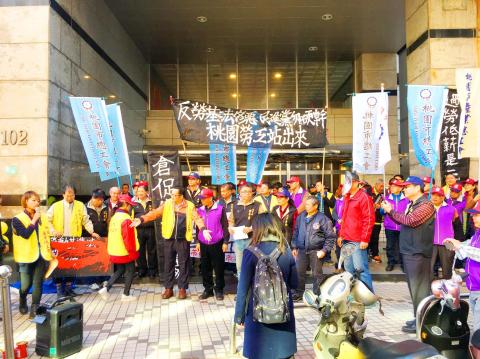 Members of the Taoyuan Central Union and two other Taoyuan unions yesterday protest against a draft amendment to the Labor Standards Act proposed by the Democratic Progressive Party outside the party's Taoyuan chapter.
Photo: Wei Chin-yun, Taipei Times
The amendments would exempt employers of shift workers from scheduling a mandatory 11-hour break between shifts, but average workers would not be affected by these regulations, Executive Yuan spokesman Hsu Kuo-yung (徐國勇) said.
The amendments would still require an 11-hour rest between shifts, but certain industries could be exempted from the requirement and be allowed to offer only an eight-hour break.
In plants running in three eight-hour shifts, workers can have 16 hours of rest time if they always work the same shift, the Ministry of Labor said, adding that shift workers would still have 12 hours of rest if they are asked to work overtime, which is capped at four hours per day.
The conditional eight-hour rest is proposed to accommodate shift pattern changes, such as when a worker is transferred from a day shift to a night shift, Hsu said.
The act stipulates that no more than one change should be made to a worker's shift plan every week, so workers are guaranteed enough rest time, he said.
"The amendments aim to increase workplace flexibility, not worsen working conditions," Hsu said.
He said the amendments would raise the maximum number of consecutive working days from six to 12 under four circumstances only: when employees are working odd schedules, such as during long weekends and Lunar New Year holidays; for work in special locations, such as in remote areas; for work under special conditions, such as that of ship and airline crews, or employees dispatched to other countries; for work during special events, such as sports events and academic conferences.
Businesses would need to seek prior approval from the ministry and other regulators, such as the Ministry of Transportation and Communications, before they could increase the number of consecutive working days, Hsu said.
In other cases, the amendments would maintain the principle of a five-day work week and cap consecutive working days at six, Hsu said.
Rather than creating legal loopholes, the conditional exemption would create flexibility for special types of work such as media coverage of large sports events, Minister of Labor Lin Mei-chu (林美珠) said.
"Exceptions will not become the rule, and exceptions will be very rare," Lin said.
Comments will be moderated. Keep comments relevant to the article. Remarks containing abusive and obscene language, personal attacks of any kind or promotion will be removed and the user banned. Final decision will be at the discretion of the Taipei Times.