New Party decries arrest of members
'WHITE TERROR': A party member likened Investigation Bureau officers to Gestapo, because they made a mess of Chen Ssu-chun's belongings when searching his home
The New Party yesterday decried what it said was the Democratic Progressive Party's (DPP) "barbaric arrest" of four of its members for alleged violations of the National Security Act (國家安全法).
Investigation Bureau officers at about 6:30am yesterday raided the homes of New Party spokesman Wang Ping-chung (王炳忠) and party members Hou Han-ting (侯漢廷), Lin Ming-cheng (林明正) and Chen Ssu-chun (陳斯俊) in Taipei and New Taipei City, seizing documents, computers and cellphones, and taking the four to the bureau for questioning on the grounds that they allegedly collected and provided intelligence to the Chinese Communist Party (CCP).
"What intelligence could they possibly collect and provide? What have they done other than openly oppose [Taiwanese] independence and advocate unification" between Taiwan and China, New Party Deputy Chairman Lee Sheng-feng (李勝峰) told a news conference in Taipei.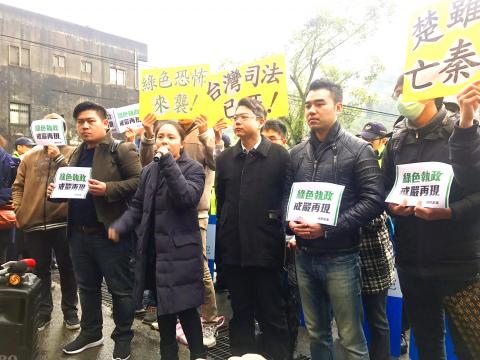 New Party supporters protest outside the Ministry of Justice's Investigation Bureau in New Taipei City's Xindian District yesterday after the bureau detained four party members in relation to alleged breaches of the National Security Act.
Photo: CNA
Wang, Hou and Lin are household names for their anti-independence, pro-unification remarks in the media, and by targeting the three most well-known young members of the party, the DPP is attempting to silence the New Party, Lee said.
Wang's lawyer, Chen Li-ling (陳麗玲), said the four were denied the right to seek legal assistance before their arrest, because they were initially slated to be summoned as witnesses at 8:30am yesterday.
"However, their residences were raided at 6am, which was a procedural violation," she added.
By perpetrating a move that is reckless, barbaric and "messed up," the DPP is forcing the public to rebel, and the New Party will respond by devoting itself to the local elections next year to overthrow the DPP to let it "feel people's wrath and bring about justice," he said.
The four were arrested in connection with an espionage case implicating alleged Chinese spy Zhou Hongxu (周泓旭), Lee said, but added that he did not know Zhou personally, nor did he know how close Zhou was with the four men.
"The DPP can ignore the need to drive economic growth and discourage diversity. However, it will never take away the pride of being Chinese from New Party Youth Corps members," New Party Youth Corps head Yang Shih-kuang (楊世光) said, adding that his party would do everything in its power to clear his colleagues' names through legal action.
New Party member Kolan Kaoti (戈蘭高地), who provided Chen Ssu-chun with accommodation, said she was terrified and compared the investigators to Gestapo because they made a mess of Chen Ssu-chun's belongings.
"The move was like a reprise of the White Terror," she said.
"The DPP will have bad karma for the many evil deeds it has done," Hou's mother said.
Separately, Chinese Nationalist Party (KMT) spokesman Hung Meng-kai (洪孟楷) said the raids and arrests were disproportionate, as authorities did not have enough evidence to prove that the four had committed an offense.
The move has raised public concern that the DPP is reinstating martial law, he said, urging investigators and prosecutors to promptly give an explanation to ease concerns.
Deputy Minister of Justice Chen Ming-tang (陳明堂) said he knew the details of the case, but declined to elaborate, citing the confidentiality principle on cases under investigation.
Comments will be moderated. Keep comments relevant to the article. Remarks containing abusive and obscene language, personal attacks of any kind or promotion will be removed and the user banned. Final decision will be at the discretion of the Taipei Times.