Human Rights Museum to be opened on May 17
TRANSFORMATIONS: President Tsai Ing-wen said that it would be a pity if the pain caused by authoritarianism is simplified to the issue of whether to change street names
Minister of Culture Cheng Li-chiun (鄭麗君) yesterday announced that a National Human Rights Museum is to be formally founded on May 17 next year in Jingmei Human Rights Memorial and Cultural Park (景美人權文化園區) in New Taipei City and the Green Island Human Rights Culture Park on Green Island (綠島).
Cheng made the announcement at an event marking International Human Rights Day at the Taipei Guest House that was attended by President Tsai Ing-wen (蔡英文), human rights campaigner Linda Arrigo and a number of survivors of political persecution and their families.
The nation owes a debt of gratitude to the survivors of political persecution, who three decades ago during the Martial Law era resisted the authoritarian regime and bought the freedom Taiwanese enjoy today with their blood and tears, Cheng said.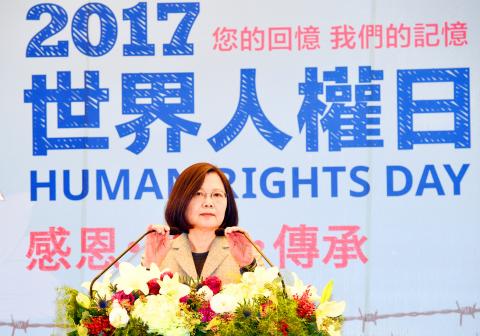 President Tsai Ing-wen attends an event to mark International Human Rights Day at the Taipei Guest House yesterday.
Photo: Peter Lo, Taipei Times
Maintaining the country's democratic way of life requires that people remember their history, she said.
Confronting the country's history of human rights violations and making restitution is not about fanning political partisanship, but rather a necessary act to reaffirm that human rights are the core value of democratic societies, she said.
The establishment of the National Human Rights Museum "shows that this administration believes the country's history of political persecution should be confronted at the level of the state," she said.
"Building a museum in a place of past injustice will help transform a place of historical trauma into a place of human rights education for modern society," she said.
Tsai in her speech said she hopes the country's aspirations for transitional justice will become a social moment that brings Taiwanese together and helps them forge a common future.
Social consensus on reconciliation is a prerequisite for transitional justice and the authoritarian remnants of the past must be dealt with through the democratic process, she said.
Tsai also commented on the passage into law of the Act on Promoting Transitional Justice (促進轉型正義條例), which media reports said required that schools and roads named after Chiang Kai-shek (蔣介石) be renamed.
"The experience of transitional justice in other countries shows that transitional justice involves the past of the entire country and society," she said. "It would be a pity if our shared pain is simplified to the issue of changing names."
Tsai did not elaborate on the issue.
Additional reporting by CNA
Comments will be moderated. Keep comments relevant to the article. Remarks containing abusive and obscene language, personal attacks of any kind or promotion will be removed and the user banned. Final decision will be at the discretion of the Taipei Times.