Councilor calls for action on claw machines
'SELECTIVE VENDING MACHINES': Taoyuan Mayor Cheng Wen-tsan said operators of claw machines did not need to comply with rules beyond those for vending machines
Taoyuan City Councilor Liu Mao-chun (劉茂群) on Friday claimed to speak for local parents at a municipal session, saying they were concerned about the rising number of toy claw crane machines around schools, where children were "spending their breakfast money."
Liu, a member of the Chinese Nationalist Party (KMT), said she received complaints from parents in her electoral district of Bade (八德).
Claw machine stores had appeared near the Da Cheng, Juifong and Guangsing elementary schools, as well as Yongfong Junior High School, causing children to spend their breakfast money and go to school hungry, Liu said.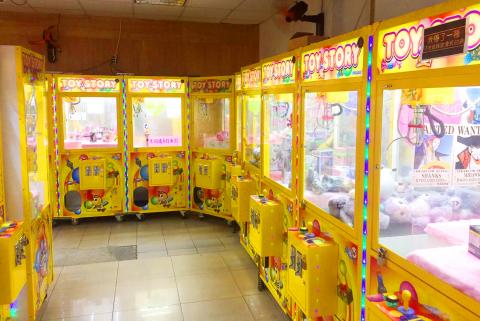 A claw game parlor in Taoyuan is pictured on Friday.
Photo: Hsieh Wu-hsiung, Taipei Times
A resident in her constituency had told her that his wife had spent NT$6,000, half the family's monthly allotment for food purchases, on the machines within a few days, Liu said.
Taoyuan Mayor Cheng Wen-tsan (鄭文燦) promised to investigate tax records and commercial license registrations for all claw machine stores near the schools.
Just like vending machine operators, owners of claw machines only need to apply for commercial registration, Cheng said.
Claw machines are defined as "selective vending machines," as they must guarantee a certain success ratio, Taoyuan Economic Development Bureau Director Chu Sung-wei (朱松偉) said, citing the Statute Regulating Arcades and Gaming Facilities (電子遊戲場管理條例).
The machines' categorization affords them the same treatment as common vending machines, which only require license registration, Chu said.
The sudden increase in claw machines nationwide has also been a source of discussion online, including on the popular Professional Technology Temple (PTT) electronic bulletin board.
Some netizens speculated that the sudden flood of claw machine stores was because the stores could not be rented out for other purposes.
They speculated that property owners might be frustrated by interest in their buildings and accept offers from claw machine companies, whose business does not require constant staff supervision.
Others said that the appearance of claw machines — which offer simple entertainment at a very low price — is indicative of an economy in recession and should be considered a warning sign.
While people think it is a business trend, it is only a fad hiding the more worrying problem that store locations cannot be rented out, commentators on PTT said.
Comments will be moderated. Keep comments relevant to the article. Remarks containing abusive and obscene language, personal attacks of any kind or promotion will be removed and the user banned. Final decision will be at the discretion of the Taipei Times.