Australian artist explores how humans adapt to 'science fiction-like conditions'
'SOMETHING EXCITING': The NASA-trained artist-astronaut candidate said that to be alive today meant 'to be confronted, to be challenged and do something exciting'
Australian artist-scientist Sarah Pell, who performs in extreme environments to simulate what it is like to be in space, on Friday said in Taipei that she hopes to understand how human beings behave in difficult surroundings and learn to adjust accordingly.
Trained by NASA on a mission to become the world's first female artist-astronaut, Pell said her art projects — carried out in places ranging from the Atlantic Ocean to Mount Everest — are aimed at conducting the ultimate conversation between human beings and the universe.
"I am really interested in how we can create radical feet of imagination, to create an arc of technology that builds solutions for us from sea, to summit, to space," she said at a forum held by the Australian Office Taipei.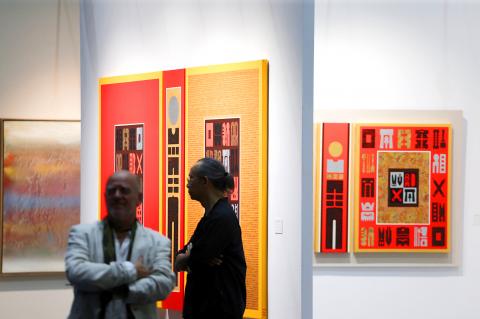 Visitors to Art Taipei 2017, which is held in Hall 1 of the Taipei World Trade Center, view exhibits on Thursday, the opening day.
Photo: CNA
Pell said she wants to use various art forms — from dance and performance technology to live art and commercial diving — that "amplify human conditions" and share with her audiences her personal experiences under those science fiction-like conditions.
"My aim is to build an understanding of what it means to be alive today," said Pell, who was invited as a keynote speaker at Art Taipei, which opened on Friday and is to run through tomorrow.
"We need to evolve and adapt to really take care of our planet so we can take care of ourselves," said Pell, who is the first female artist-astronaut candidate assigned to a Suborbital Spaceflight Mission.
The scientist-astronaut mission, designed by former NASA astronaut instructors, teaches candidates the skills to effectively conduct research on commercial space vehicles, as part of an international research campaign dedicated to the study of the global climate.
By performing under extreme circumstances, putting herself in absolute solitude, Pell said she is given the chance to explore her inner-self and to realize that people have the potential to learn how to evolve and survive.
Pell said that by pushing the boundaries, she has also found a sense of self-empowerment, which she defined as "the courage to ask questions with conviction and being prepared to follow where they might take you."
That sense of empowerment comes from the willingness to undertake whatever challenges exist to search for the answer, she said.
Through her art performances, Pell said she might have found part of the answer to her ultimate quest for humanity and the meaning of life.
"I think to be alive today is to be confronted, to be challenged, and to stand up and do something exciting," she said.
Comments will be moderated. Keep comments relevant to the article. Remarks containing abusive and obscene language, personal attacks of any kind or promotion will be removed and the user banned. Final decision will be at the discretion of the Taipei Times.