Taiwanese comic artist to star at Frankfurt Book Fair
A series of book signings by award-winning Taiwanese comic artist Zuo Hsuan (左萱) is to be one of the highlights of Taiwan's presentations at the Frankfurt Book Fair in Germany this month, the Ministry of Culture said.
Taiwan's pavilion at the fair is to display Zuo's first book The Summer Temple Fair, comic book What She Put on the Table and illustration White as Paper.
In addition, Zuo, who won a bronze at Japan's International Manga Awards earlier this year for The Summer Temple Fair, plans to hold three book signings at the fair on Thursday, Friday and Saturday next week, the ministry said.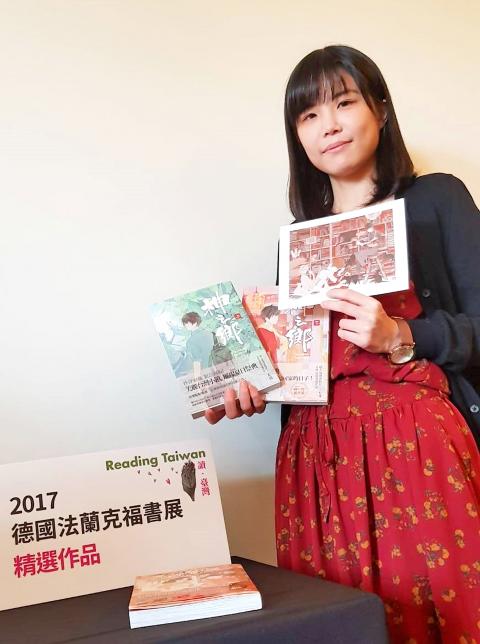 Award-winning Taiwanese comic artist Zuo Hsuan holds up her comic books at a news conference in Taipei on Tuesday.
Photo: Ling Mei-hsueh, Taipei Times
The Summer Temple Fair is about college student Hsia Chih-hsun who begins to recover forgotten childhood memories when he takes a classmate to his hometown in Taoyuan's Dasi District (大溪).
Hsia's return to Dasi coincides with an annual religious festival held in the community to celebrate the birth of Guan Yu, a general in the Eastern Han Dynasty who was later deified by many Chinese.
Zuo, who lived in Dasi with her grandparents when she was a child, said she did some field research in the area in preparation for writing The Summer Temple Fair, which she described as a story about family and friendship.
She is pleased to introduce Taiwanese culture and customs to foreign readers through her comic art, the artist said.
Under the theme "Reading Taiwan," the pavilion also plans to display 807 print and digital publications from 98 Taiwanese publishers, the ministry said, adding that it is sponsoring the pavilion in collaboration with the Taipei Book Fair Foundation.
The Frankfurt Book Fair, which is the biggest in the world, is to run from Wednesday to Sunday next week.
Comments will be moderated. Keep comments relevant to the article. Remarks containing abusive and obscene language, personal attacks of any kind or promotion will be removed and the user banned. Final decision will be at the discretion of the Taipei Times.