Taiwanese academic might hold Chinese citizenship
Taiwanese academic Lu Li-an (盧麗安), who teaches at the College of Foreign Languages and Literature in Fudan University in Shanghai, is under investigation by the Mainland Affairs Council for potential violation of the Act Governing Relations Between the People of the Taiwan Area and the Mainland Area (兩岸人民關係條例).
Mainland Affairs Council Minister Katharine Chang (張小月) yesterday told reporters that questions concerning Lu's nationality had been raised following her nomination to be a Chinese Communist Party (CCP) representative for the CCP's 19th National Congress, which opens in Beijing on Oct. 18.
Lu and nine others were nominated to represent "Taiwan Province," but she is the only one who was born in Taiwan.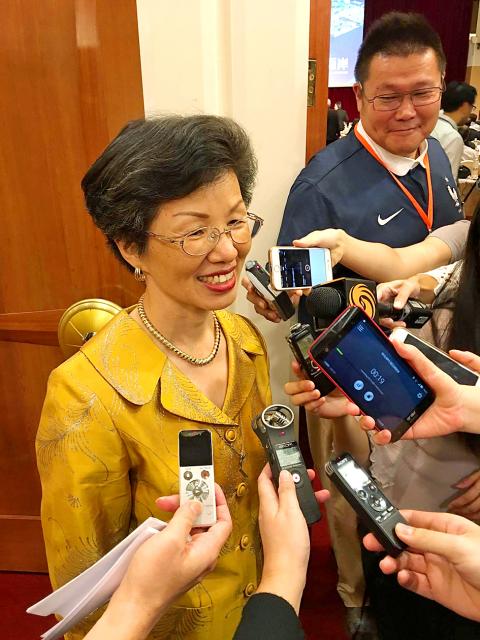 Mainland Affairs Council Minister Katharine Chang yesterday answers questions from reporters at a news conference in Taipei about Shanghai-based Taiwanese academic Lu Li-an.
Photo: Lin Liang-sheng, Taipei Times
The council has discovered that Lu, while born in Kaohsiung, elected to teach at Fudan University with her husband since returning from her studies in the UK in 1997, Chang said.
The council respects Lu's choice to enter and leave Taiwan with her Chinese passport, Chang said.
However, the National Immigration Agency (NIA) is investigating whether Lu still holds her Republic of China (ROC) citizenship, Chang said.
Under the act, no Taiwanese can establish a residence or hold a Chinese passport, with violators being immediately stripped of their ROC citizenship.
Taiwanese are also prohibited from assuming positions in the CCP, the People's Liberation Army, or the Chinese civil service.
If Lu still retains her ROC citizenship after the investigation, she would be expected to choose between ROC or Chinese citizenship, Chang said.
Comments will be moderated. Keep comments relevant to the article. Remarks containing abusive and obscene language, personal attacks of any kind or promotion will be removed and the user banned. Final decision will be at the discretion of the Taipei Times.