At Confucian rite, Ko has words with interior minister
Taipei Mayor Ko Wen-je (柯文哲) yesterday said he had words with Minister of the Interior Yeh Jiunn-rong (葉俊榮) over the Cabinet's "rude" reassignment of the city's police department commissioner without consultating him.
Ko and Yeh took part in the Confucius Temple's annual ceremony to mark Confucius' birthday, the first time Ko has attended the traditional ritual since he took office three years ago, and the men had a brief exchange.
Their interaction appeared strained and they both left the temple shortly afterward.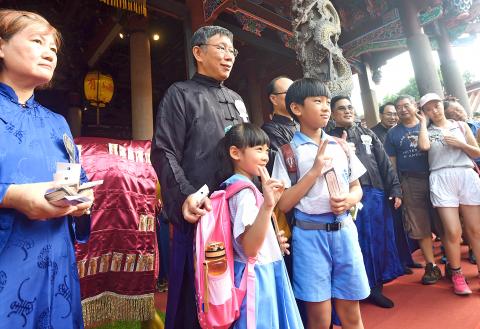 Taipei Mayor Ko Wen-je yesterday poses with some young students after attending the annual Confucius birthday rites at the Confucius Temple in Taipei.
Photo: Chien Jung-fong, Taipei Times
At a news conference later, after Ko attended a Taiwanese-Japanese forum on elderly care, the mayor was asked what he talked about with Yeh.
Ko was reluctant to discuss the matter, but recounted the conversation after repeated questions from reporters.
"I said to him: 'What you did there was pretty rude.' Yeh tried to explain and said he would communicate with me at an opportune time. So I said to him, 'You have already done it. What else is there to talk about?'" Ko said.
Ko denied he had intentionally skipped the temple ceremony in the past two years, amid criticism by city councilors that he only attended this year's event because of next year's elections.
The temple's ceremonies in the past two years had coincided with typhoons, while the weather today was more conductive to attending, the mayor said.
Ko refused to comment on Premier William Lai's (賴清德) remarks on Tuesday at the Legislative Yuan about supporting Taiwanese independence.
"I am not going to talk about that. I am focusing on running the city. I get hit whenever I open my mouth, so why should I say anything about that?" Ko said.
Asked again if he thought Lai should be politically neutral, Ko said only that the question was an issue between Lai and President Tsai Ing-wen (蔡英文).
Comments will be moderated. Keep comments relevant to the article. Remarks containing abusive and obscene language, personal attacks of any kind or promotion will be removed and the user banned. Final decision will be at the discretion of the Taipei Times.