Public urged to help find missing art
Following the alleged theft of works by sculptor Lin Liang-tsai (林良材), Democratic Progressive Party (DPP) lawmakers yesterday called on the judiciary to locate and return the works to the artist and urged collectors not to purchase the sculptures if they are offered for sale.
Forty-seven sculptures by Lin, who is known for working with cast iron and copper plating, were allegedly taken on June 26 without Lin's knowledge or consent by Lin's agent, Yang Po-wen (楊博文), from the Bellavita shopping mall in Taipei where they were exhibited.
Lin and other artists called a news conference yesterday, where DPP lawmakers called on the public to help him find the missing sculptures and urged collectors not to buy them.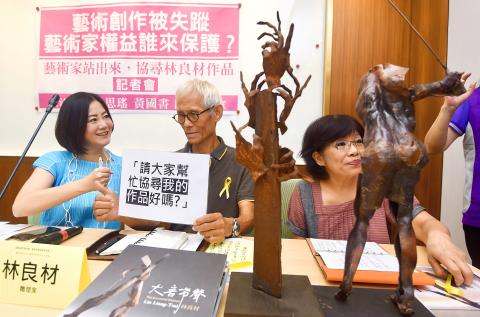 Sculptor Lin Liang-tsai, center, Democratic Progressive Party Legislator Rosalia Wu, left, and Lin's wife, Chang Chieh, hold a news conference in Taipei yesterday.
Photo: Chien Jung-fong, Taipei Times
Lin has filed a criminal suit against Yang for allegedly stealing the sculptures and a civil suit to annul their contract.
Yang also launched a lawsuit against Lin demanding compensation of NT$70 million (US$2.32 million) for the damages Lin had allegedly caused by unilaterally deciding to terminate the contract.
Lin, a deaf and speech-impaired artist, gestured appreciation for the support of lawmakers and artists with sign language, calling on the public for help and urging the government to provide artists with legal assistance and a standard art agency contract to prevent other artists from facing similar predicaments.
Prosecutors have not begun to search for the missing sculptures, because they have considered the case to be a contractual dispute, assuming that Yang still holds the contractual right to trade the works, Loftyart Gallery director Chang Meng-wen (張孟文) said.
The missing works are valued at up to NT$50 million, but Chang asked for NT$70 million, making the case an "illegal possession of properties to demand ransom," Chang said.
"The art scene has never before seen such absurdity; artists are indignant at such shamelessness," Association of the Visual Arts in Taiwan chairman Chen Wen-hsiang (陳文祥) said.
DPP legislators Rosalia Wu (吳思瑤) and Huang Kuo-shu (黃國書) said that the case was an apparent "illegal possession of property."
They called on the judiciary to handle the case and urged the Ministry of Culture to establish a standardized art agency system to prevent such incidents.
The ministry would put forward a standard art agency contract and legal guidelines for artists and art agencies, Department of Arts Development Director Chang Hui-chun (張惠君) said.
It is to also begin providing regular legal assistance for artists at specified locations, Chang added.
Comments will be moderated. Keep comments relevant to the article. Remarks containing abusive and obscene language, personal attacks of any kind or promotion will be removed and the user banned. Final decision will be at the discretion of the Taipei Times.