Tainan widow helping single mothers
'BODHISATTVA': Widowed at 26, Chen Yang Li-jung has single-handedly raised two daughters and has been providing financial assistance to single mothers for 46 years
An 82-year-old Tainan woman has been providing financial aid to single mothers for the past 46 years in the hope that they would be spared the difficulties she experienced when she lost her husband at 26.
Chen Yang Li-jung (陳楊麗蓉) on Saturday visited the South Tainan Branch of the Taiwan Fund for Children and Families and gave NT$35,000 (US$1,163) each to 10 single mothers there.
Chen Yang lost her husband in 1961. While her husband ran a relatively successful roof-tile business, it was not easy raising two daughters alone.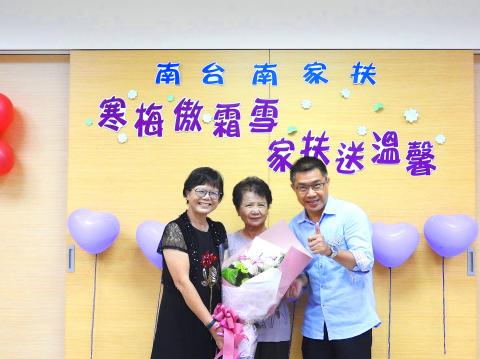 Chen Yang Li-jung, center, is presented with a bouquet of flowers on Saturday during a visit to the South Tainan branch of the Taiwan Fund for Children and Families.
Photo: Chiu Hao-tang, Taipei Times
The Paiho earthquake of 1964 brought about a reversal of fortune, she said.
Many roof-tile manufacturers raised their prices as demand surged for rebuilding after the earthquake, Chen Yang said.
While they all made a tidy profit, Chen Yang said she emphathized with the victims and sold roof tiles at a lower price or even gave some away for free.
Chen Yang made a name for herself through her action and her business continued to prosper years after the earthquake, which helped her family, she said.
Taking her own experience to heart, she began making donations to help single mothers in 1972, initially by asking the local chapter of the Chinese Nationalist Party (KMT) to help look for people in need.
The party found 10 women and Chen Yang not only gave them NT$10,000 each, but also pledged to donate NT$100,000 each year to help 10 single mothers.
"I scared the party chapter worker, who said it was too much," Chen Yang said.
At the time 1 ping (3.31m2) of land cost only NT$200 to NT$300, and a male worker earned NT$30 per day, Chen Yang said.
She said she made the donation in the hope that a single mother would be able to live in a house with a bedroom, a living room and a kitchen.
Fortunately, bank deposit rates at the time were as high as 10 percent, she said, adding that with just NT$1 million in the bank, she was able to help many people using the interest income.
Over the years she gradually increased the amount and in recent years has been donating NT$35,000 each to 10 individuals per year.
She has donated nearly NT$9 million over 46 years and has helped more than 460 people, earning her the sobriquet a "bodhisattva for single mothers."
A 37-year-old Vietnamese woman, known as A-tao (阿桃), is one of the hundreds of women Chen Yang has helped.
A-tao had been cheated out of her husband's insurance payout after he passed away because her sister-in-law had changed the name of the beneficiary, Chen Yang said.
Chen Yang remembers another woman, surnamed Tung (董), that she helped seven years ago.
Tung's husband died from an electric shock, leaving her to raise four children.
One of her daughters, aged 17, died a year later in a car accident.
Losing two loved ones in less than two years drove Tung to atttempt to commit suicide by jumping into the sea. Her cries for help caught the attention of a coast guard patrol.
Later, Tung received her a telephone call from her son, who said that having lost his father, he could not bear losing his mother as well.
This steeled Tung's resolve to continue living, Chen Yang said.
It is incidents like these that have kept her donating and helping others over the decades, she said.
Worried that no one would continue her work after she dies, Chen Yang donated NT$10 million and founded the Plum Social Welfare and Charity Foundation, hoping that all single mothers down on their luck will have a safe haven.
Comments will be moderated. Keep comments relevant to the article. Remarks containing abusive and obscene language, personal attacks of any kind or promotion will be removed and the user banned. Final decision will be at the discretion of the Taipei Times.