Foundation holds commemoration for Liu Xiaobo
The government-funded Taiwan Democracy Foundation yesterday held a commemoration service for Chinese democracy activist Liu Xiaobo (劉曉波), even as the administration of President Tsai Ing-wen's (蔡英文) rhetoric on Chinese human rights continues to draw scrutiny.
"The Chinese human rights situation has already impacted Taiwanese," foundation president Hsu Szu-chien (徐斯儉) said, citing the detention of Taiwanese democracy campaigner Lee Ming-che (李明哲).
"We are holding this event to remind young Taiwanese that they cannot take democracy for granted, especially when we face an undemocratic China," he said, adding that the event was held in response to a call for commemorations worldwide for Liu by the US-based National Endowment for Democracy.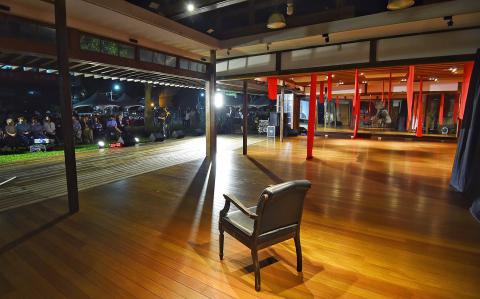 An empty chair is placed at the Tsai Jui-yueh Dance Research Institute in Taipei yesterday during an event commemorating Chinese democracy activist Liu Xiaobo.
Photo: Liu Hsin-de, Taipei Times
Yesterday's event, which included mentions of Lee's case and featured speeches by numerous pan-green politicians and civic activists, was an unusually high-profile event for the foundation, which provides substantial funding for local non-governmental organizations (NGOs), academic research and events related to democracy, but has rarely stepped directly into the spotlight.
"Because the Taiwanese government and other governments around the world have diplomatic and other concerns, their public statements are understandably cautious, but we are not the government and it is our duty to speak up for democracy," Hsu said.
The event followed a public statement by Tsai mourning Liu and calling for Chinese democratic reforms, promising that Taiwan would provide "necessary help" if China pursues a democratic dream.
However, Hsu said the foundation no longer provides grants to Chinese democracy activists after one grant recipient disappeared and related funds were confiscated.
"Application rules require that a group have a bank account and be legally registered locally," he said, but added that the foundation was willing to consider funding activities related to Lee's case, but has not received any application from local NGOs.
"Because the Taiwan Democracy Foundation is funded by the government, there were concerns about inviting government influence, and it was eventually decided not to seek support," said Covenants Watch chief executive officer Huang Yi-bee (黃怡碧), adding that Hsu had still provided personal advice.
A task force involved in the rescue effort had previously stated that Hsu was assigned by the Presidential Office to work out solutions with the task force, but ended up making their pursuit of international aid more difficult, leading Lee Ming-che's family to decline government subsidies.
"There are many comparable aspects in Liu's and Lee's case, and we hope to use this event to increase the level of support for Lee. Moreover, even though Liu has passed away, his wife is still under house arrest and that is a huge concern," said Huang, whose group provided assistance in sponsoring yesterday's event. "An event like this is not about 'milking' the issue — we are working together to accomplish a several different objectives — including relative to Lee's case — and everyone has their own angle on how to help and show concern."
Comments will be moderated. Keep comments relevant to the article. Remarks containing abusive and obscene language, personal attacks of any kind or promotion will be removed and the user banned. Final decision will be at the discretion of the Taipei Times.