NEWSMAKER: Premier-designate William Lai a 'battle premier'
Premier-designate William Lai (賴清德) is a physician-turned-politician who since 2010 has been mayor of Tainan, a southern stronghold for the Democratic Progressive Party (DPP).
A native of what is now New Taipei City's Wanli District (萬里), Lai studied at Taipei Municipal Jianguo High School before earning a bachelor of science degree from National Taiwan University's School of Physical Therapy.
He then attended National Cheng Kung University and received certification as a nephrologist.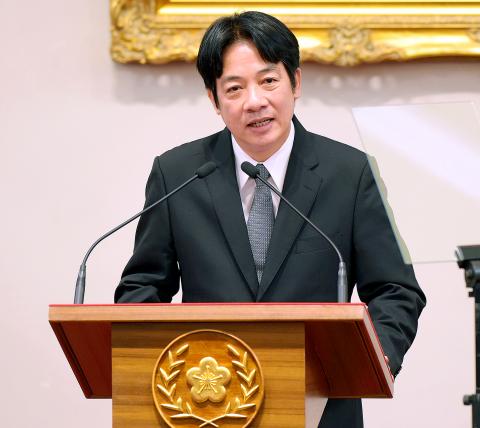 Tainan Mayor William Lai speaks at a news conference at the Presidential Office in Taipei yesterday.
Photo: Huang Yao-cheng, Taipei Times
He later received a master's degree in public health from Harvard University's School of Public Health while serving as a legislator.
Lai entered politics in 1996, when he was elected a representative of the then-National Assembly.
In 1999, he ran for legislator and was re-elected several times until 2010, when he ran for Tainan mayor.
Dubbed the "No. 1 mayor" by local media after placing first in several support polls for policies passed under his administration, Lai's popularity — a TVBS poll conducted late last year put his approval rating at 55 percent — has prompted local observers to mention him as a possible presidential contender.
Staff have said that Lai is a "complete workaholic" who holds himself to high standards and expects perfection, adding that his looks have also helped his political aspirations.
Known for his staunchly pro-independence views, Lai, 57, has repeatedly voiced support for Taiwan's independence in media interviews and city council meetings.
As made evident by an incident in 2011 — in which he rejected and questioned the legality of a proposal to allocate construction funds to city councilors based on the size of their constituencies — he is not afraid of confrontation.
In 2015, Lai faced the greatest crisis of his political career for refusing to attend Tainan City Council meetings following the indictment of then-council speaker Lee Chuan-chiao (李全教) for vote buying during the 2014 election.
At the time, Lai vowed to boycott all city council meetings until corruption cases against Lee, a Chinese Nationalist Party (KMT) member, were concluded, saying that Tainan's pride as the mecca of Taiwanese democracy had been marred by Lee, whose position as a councilor was in question.
In August of that year, the Control Yuan impeached Lai for "gross negligence" for his boycott of the council meetings, followed in November by a reprimand from a Judicial Yuan commission for failing to attend council meetings for more than 200 days.
His support rating also took a hit during a dengue fever epidemic in 2015, when Tainan was the epicenter of the outbreak, which also spread to Kaohsiung and Pingtung County.
However, he recouped his support ratings by presiding over rescue efforts for residents of the Weiguan Jinlong complex, which collapsed during an earthquake on Feb. 6 last year.
Lai's ability to govern, as well as his achievements as mayor, have been greatly applauded by the DPP and society in general.
Lai has strong support from the public and his faction in the DPP, Taipei Mayor Ko Wen-je (柯文哲) said yesterday, adding that he expected Lai to become a "battle premier," a term that has been used by the media to describe a premier who would help the ruling DPP win elections.
"Lai should be preparing for next year's mayoral and county councilor elections, so he is probably a battle premier," Ko said.
In June, Ko said that Lai, an internal medicine physician, is used to "acting slower" than him, a former National Taiwan University Hospital surgeon.
"There are merits to standing firm and doing things steadily," Ko said yesterday, adding that he is actually on good terms with Lai, especially as they both have medical backgrounds and can "speak the same language using medical terms.
Translated by staff writer Jake Chung
Additional reporting by Lee I-chia and Bloomberg
Comments will be moderated. Keep comments relevant to the article. Remarks containing abusive and obscene language, personal attacks of any kind or promotion will be removed and the user banned. Final decision will be at the discretion of the Taipei Times.