Watermelon could win Tainan mayoral election, Lin says
Sunflower movement leader Lin Fei-fan (林飛帆) yesterday made taunting remarks about the Democratic Progressive Party (DPP), drawing criticism from DPP politicians.
"One party could win the Tainan mayoral election next year even if its candidate is a watermelon," Lin said, commenting on the city's established political landscape.
Tainan is regarded as a DPP stronghold; its mayor, William Lai (賴清德) of the DPP, in 2014 won a second term by a landslide and is slated to step down next year after eight years at the helm.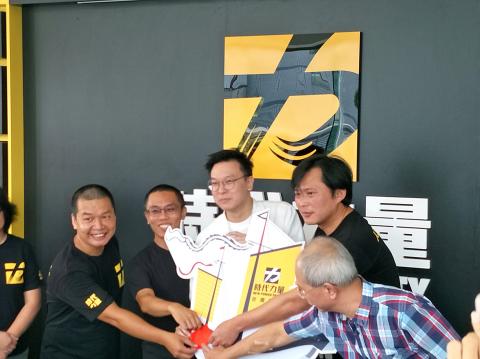 New Power Party (NPP) Executive Chairman Huang Kuo-chang, second right and Sunflower movement leader Lin Fei-fan, third right, yesterday attend the opening of the NPP's Tainan headquarters.
Photo: Chiu Hao-tang, Taipei Times
Several DPP lawmakers from Tainan constituencies have expressed their intentions to run in next year's mayoral election.
Speaking yesterday at the opening of the New Power Party's (NPP) Tainan headquarters, Lin said: "As people in Tainan are unusually conservative in politics, the DPP could win the mayoral election next year even if it promotes a watermelon as its candidate."
As for the Chinese Nationalist Party (KMT), its members could do no more than teach Hoklo language (commonly known as Taiwanese) or don traditional costumes, which was "really upsetting," Lin said in a jab at KMT Tainan City Councilor Hsieh Lung-chieh (謝龍介).
DPP Legislator Huang Wei-cher (黃偉哲) said that Lin's comments were contemptuous and humiliating to Tainan residents.
The party's procedure for primaries in the run-up to the mayoral election is strict, he added, questioning whether the NPP's candidate selection would not be achieved through backroom deals.
Lai said Tainan was also dubbed a "holy land for democracy" and this reputation was the result of hard work by many of his political predecessors, which the younger generations should respect.
DPP lawmakers Yeh Yi-chin (葉宜津) and Lin Chun-hsien (林俊憲) also said support for the DPP's ideals in Tainan was a result of the collective hard work put in by "democracy fighters."
Former deputy Tainan mayor Yen Chun-tso (顏純左), now director of the DPP's Tainan chapter, said he hoped Lin Fei-fan's comments were nothing more than a slip of the tongue.
Netizens were not so lenient toward Lin Fei-fan's remarks, with some writing that "social movements were like stepping stones for Lin," while others said Lin himself could be described as a cucumber — delicate and fragile.
Comments will be moderated. Keep comments relevant to the article. Remarks containing abusive and obscene language, personal attacks of any kind or promotion will be removed and the user banned. Final decision will be at the discretion of the Taipei Times.