Mass fish deaths blamed on high temperatures
Large numbers of dead fish have washed up on the shores of the Keelung River from Zhongshan Bridge to Dazhi Bridge, probably because of consecutive days of high temperatures, the Taipei City Government said.
The city government said it expected to finish clearing the dead fish from the river today.
The Taipei Environmental Protection Bureau said that the amount of dissolved oxygen in the water near the dead fish was 3.5 milligrams per liter, which is about four to five times lower than normal.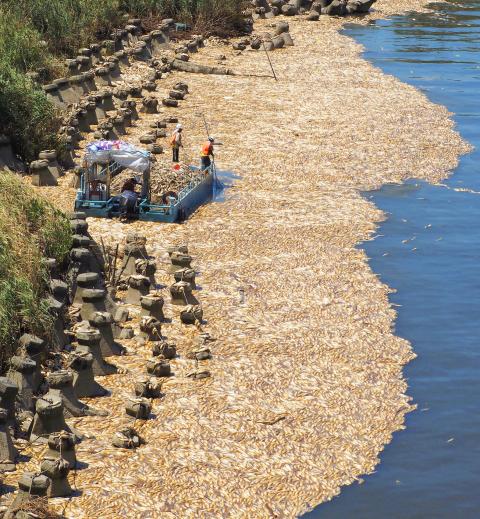 Workers on a boat yesterday remove dead fish from the banks of the Keelung River in Taipei.
Photo: EPA
The water temperature was 30.3oC, far higher than the average high temperature of 28.1oC in recent years, the bureau said.
The pH of the river was 7.3 which is normal, the bureau said, adding that despite the mass fish deaths the tilapia population in the river was alive and well.
"We suspect that the cause of mass death in fish is not due to contamination, but high temperatures," the bureau said.
The bureau said it set up netting and floating blocks near the Bailing and Zhongshan bridges to prevent the dead fish washing downriver and was working with the Water Resources Agency to remove the dead fish.
The bureau said it could not give an accurate estimate on the total number of fish killed.
The bureau said that similar incidents have occurred in Yilan County's Dongshan River (冬山河), Taoyuan's Laojie Creek (老街溪), the Bitan area (碧潭) in New Taipei City's Xindian District (新店) and in Xizhi District (汐止).
Taipei Public Works Department official Yu Pai-sung (游百崧) said that the greatest concentration of dead fish was near a river junction.
The department yesterday sent out three boats to help clear the fish, and at least one returned before noon fully laden, Yu said.
The department sent out an additional two boats yesterday afternoon to expedite the operation, Yu said.
Comments will be moderated. Keep comments relevant to the article. Remarks containing abusive and obscene language, personal attacks of any kind or promotion will be removed and the user banned. Final decision will be at the discretion of the Taipei Times.