Games an opportunity for local governments, Ko says
The Summer Universiade presents an opportunity to reorganize and mobilize local governments, and supporting the games is a way to support the nation by showing its best side to the world, Taipei Mayor Ko Wen-je (柯文哲) said yesterday.
Ko made the remarks on a Yahoo TV program, hosted by meteorologist Peng Chi-ming (彭啟明), in which Ko spoke about this month's Universiade in Taipei and political issues.
Peng said that many Taipei residents seem to be distant from the Universiade because they are not university students anymore.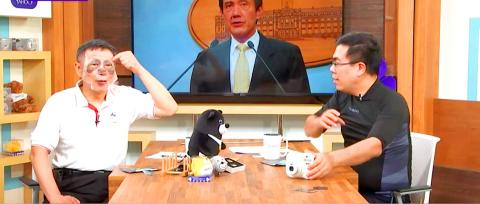 Taipei Mayor Ko Wen-je, left, tries on a feline-themed cosmetic mask during an interview in Taipei with Peng Chi-ming on Yahoo TV yesterday.
Photo: Screengrab from Yahoo TV
Ko said public opinion polls conducted by the Taipei City Government showed a majority of Taipei residents thought the games have nothing to do with them.
"It affects the city government more than the residents," he said. "We need cooperation among local departments and between local governments where the venues are located, so it is a chance to integrate, coordinate and mobilize the [local] governments, similar to a military drill."
Repeating the slogan "Let Taiwan take a step outward and let the world come in" he used to promote the games, Ko said: "What is more important than holding the event is to allow the world to see Taiwan."
The city spent nearly NT$100 million (US$3.3 million) to recode the Taipei MRT system, designating a specific color for each MRT line, and a letter and a number for each station, so that foreign visitors can find their way more easily, Ko said.
Other preparations include placing English-language road signs along roads and English-language content on official tourism Web sites, he said, adding the efforts contribute to making Taipei a more globalized city.
Peng asked Ko about his view on the Cabinet's Forward-looking Infrastructure Development Program, as Ko had criticized the proposed railway projects, to which Premier Lin Chuan (林全) responded by saying Ko's remarks were indecent.
"Were my remarks wrong? Everything I said hit the nail, that is why he [Lin] said I was indecent, but you cannot expect me to hit with a feather," Ko said.
"There is the joke that the government suddenly realizing that I do not belong in the pan-green camp when it starts dividing the money," Ko said, in an apparent reference to budget allocations.
Ko said the problem lies in the way projects were done in the past — without precision, such as the MRT's Wanda line project that had an added NT$18 billion in costs due to local resident's opposition, which he thinks could have been avoided if the government had held negotiations beforehand rather than deal with conflict afterward.
Comments will be moderated. Keep comments relevant to the article. Remarks containing abusive and obscene language, personal attacks of any kind or promotion will be removed and the user banned. Final decision will be at the discretion of the Taipei Times.