Martial arts to be digitally archived
The Sports Administration on Wednesday said it would start creating digital records of traditional martial arts indigenous to the nation as the pilot of a digital archive project to document the nation's sports culture.
The pilot project would begin this year, the agency told a news conference in front the Red House Theater (紅樓劇場) in Taipei's Ximending (西門町) area.
A martial arts group led by 91-year-old practitioner Lee Lo-tsun (李鑼村) demonstrated traditional hand-to-hand and armed combat techniques at the conference.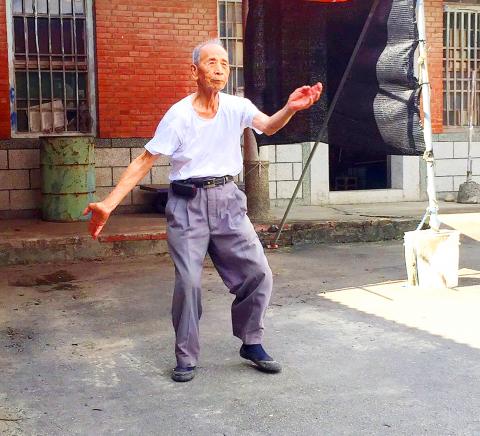 Martial arts practitioner Lee Lo-tsun, 91, demonstrates his skills in Yunlin County on July 15.
Photo: Huang Shu-li, Taipei Times
The agency said it plans to interview and film practitioners like Lee for the project.
A martial art known as Qikan (七崁) — the old Hakka name of Siluo Township (西螺) in Yunlin County — is an indigenous fighting style with nearly 200 years of history, Siluo Martial Arts Foundation president Lee Ming-che (李明哲) said.
However, Qikan masters are aging and local residents are concerned that the martial art will be forgotten, Lee said.
He said the concerns prompted him to ask the agency to preserve records of the martial art in a digital archive, he added.
Historically used by local residents for self-defense and warfare, Qikan includes armed and unarmed fighting styles, according to the foundation's Web site.
Qikan practitioners use twin short swords, sword and shield, staff, spear or glaive, among other weapons, the Web site said.
Chinese Nationalist Party (KMT) Legislator Chiang Wan-an (蔣萬安) said he is happy to see children among Qikan practitioners.
"Martial arts would be useful at the Legislative Yuan. Maybe the masters can teach me a few moves," Chiang said.
Sports Administration Director-General Lin Te-fu (林德福) said the agency would also digitize other materials related to the nation's sports history.
Materials collected from sports academies, professional leagues, Olympic teams and the public would be digitized along with information on traditional sports, he said.
More than 100 people would be interviewed by researchers, and records and materials would be archived in a database for public and academic use, Lin said.
People who have books, memorabilia, photographs, newspaper clippings, video recordings, manuscripts or other relevant material, or know people who can be interviewed for the project, can contact National Taiwan University of Arts, he said.
Additional reporting by Huang Shu-li
Comments will be moderated. Keep comments relevant to the article. Remarks containing abusive and obscene language, personal attacks of any kind or promotion will be removed and the user banned. Final decision will be at the discretion of the Taipei Times.