Top swimmer riled by her omission from Universiade
'NEPOTISM': Mitzi Ting said the selection process for the national team was fraught with favoritism and did not appear to be based on any qualification standard
Athletes and sports fans called on the government to quicken the pace of sports reform, after top-ranking swimmer Mitzi Ting (丁聖祐) was not listed for the national team for the Summer Universiade.
Sports Administration officials yesterday said they would look into the matter and meet with Chinese Taipei Swimming Association (CTSA) representatives.
Ting, a senior at National Taiwan University School of Business Administration, won medals in domestic and international competitions in high school and as an undergraduate.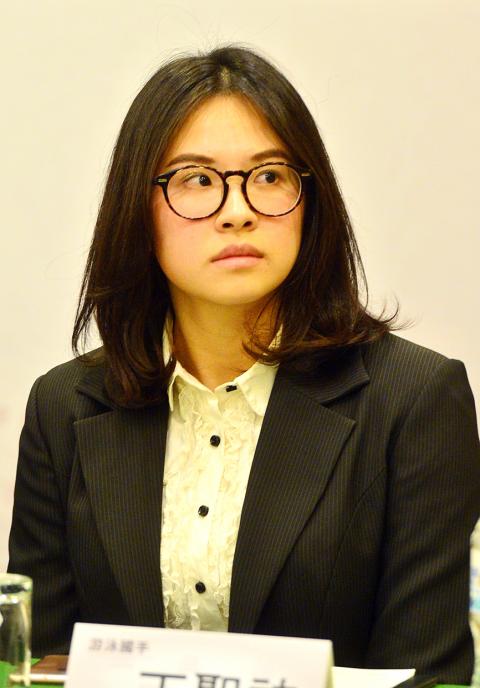 Swimmer Mitzi Ting attends a news conference in Taipei on March 31.
Photo: Wang Yi-sung, Taipei Times
In the National Intercollegiate Athletic Games, Ting won two golds and two other medals in 2014, a gold medal in 2015, and broke a national record to take the gold medal in the 50m butterfly this year, while coming in second in the 100m butterfly.
Born in the US, Tiing moved to Taiwan with her family at the age of 10.
She said she was looking forward to representing the nation at the Universiade, but was disappointed on Thursday when she found out that she had not been picked for the team.
The CTSA selected 17 male and seven female swimmers and three coaches for the team, which is headed by Lee Teng-feng.
Ting on Friday posted an online video, in which she said that the selection process was fraught with nepotism and was based on family connections and favoritism and not on qualifications.
"The CTSA's selection seemed to be arbitrary and did not follow any rule or qualification standard," she said, citing the selection of three swimmers for the men's breaststroke event, but only one for the women's backstroke and butterfly events.
"There are even swimming events where no athlete was selected," she said.
She questioned the inclusion of two high-school students, saying college athletes would produce faster times.
The pair were selected because the father of one of them is a swim coach with connections in the CTSA and the father of the other is a friend of the CTSA head coach.
"In Taiwan, there has never been any fixed rules for selections for the national team. It is always a shady operation," Ting said.
"The power to select athletes always rests in the hands of governing body officials or some 'selection committee' where they can achieve their personal aims by not announcing the selection qualification standards, so they can manipulate the results," she said.
Ting said she was being excluded because she does not have a coach who could influence the officials.
She is seen as "an athlete fighting the system, and therefore to these officials, I am among the people to be neglected and even forced out of the system by all means," Ting wrote.
Comments will be moderated. Keep comments relevant to the article. Remarks containing abusive and obscene language, personal attacks of any kind or promotion will be removed and the user banned. Final decision will be at the discretion of the Taipei Times.