Environmentalists press oyster farmers
Environmentalists have renewed calls for oyster farmers to switch to environmentally friendly material for cultivation equipment to reduce effects on other marine life.
Oyster farms typically house oysters in cages enclosed in polyurethane or polystyrene foam, which environmentalists say can easily break apart during harvesting, affecting the marine environment.
Oyster farmers in Yunlin County, where conditions are ideal, once used a suspension method of cultivation in which oysters are hung from a buoy, allowing the shellfish to move up and down with the changing tides.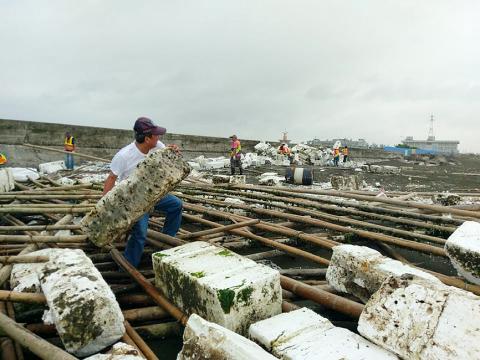 A member of the southern area branch of the Environmental Protection Administration clears oyster frames and polystyrene foam blocks in Tainan yesterday.
Photo taken from Facebook
However, farmers changed to a cage culture method in an attempt to overcome space restrictions they encountered with suspension cultures in the shallow waters.
A farmer surnamed Lin (林) said that a single enclosure can house up to 1,000 strings of oysters.
"That enclosure will weigh up to 100kg when the oysters are mature. If a sufficient amount of polystyrene foam or polyurethane foam is not used, then a whole year of hard work will sink to the bottom of the ocean," Lin said.
However, environmentalists say that the foam will become a waste management problem, as polystyrene foam cannot be used in the enclosures for more than three years.
While polyurethane lasts longer — up to 10 years — it cannot withstand strong waves caused by typhoons, they said, adding that foam broken off during harvesting is swept out to sea.
"If that foam is broken into small enough pieces, it gets ingested by fish that mistake it for food," one environmentalist said. "In the end, people might end up eating that polystyrene foam" when they eat the fish.
Larger pieces of polystyrene foam sometimes wash up on the coastline where they can obstruct flood prevention systems and increase the risk of flooding, they said.
Another oyster farmer, surnamed Wang (王), said that polystyrene foam is an affordable and practical solution for farmers.
"If farmers are required to find a new material to use, realistic issues need to be addressed, such as whether funding allows for it," Wang said.
Comments will be moderated. Keep comments relevant to the article. Remarks containing abusive and obscene language, personal attacks of any kind or promotion will be removed and the user banned. Final decision will be at the discretion of the Taipei Times.