DPP should part with Ko over China talk: lawmaker
SEPARATED: Taipei Mayor Ko Wen-je has compared flailing cross-strait relations to a dispute between a married couple that could be solved in the bedroom
The Democratic Progressive Party (DPP) should part ways with Taipei Mayor Ko Wen-je (柯文哲) for his increasingly Beijing-friendly position, DPP Legislator Pasuya Yao (姚文智) said yesterday.
Ko on Monday concluded the three-day Taipei-Shanghai twin-city forum with the independent mayor describing Taiwan and China as "one family" and "a community of common destiny," provoking a mixed response from Taiwanese.
Yao said Ko's "family" and "community of common destiny" motifs are a rehash of Chinese President Xi Jinping's (習近平) cross-strait narrative.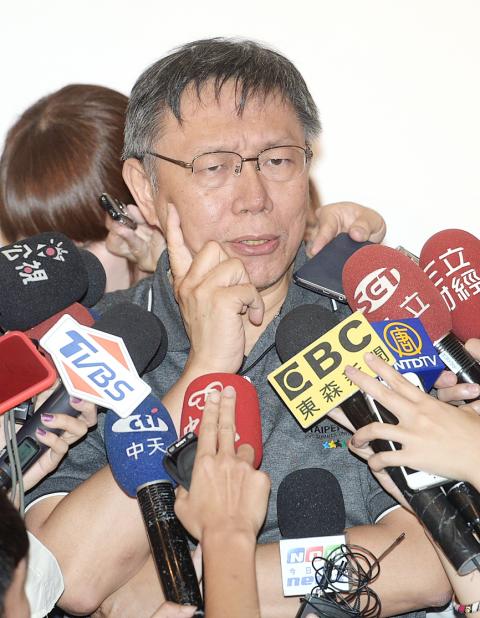 Taipei Mayor Ko Wen-je speaks to the media in Taipei yesterday after returning from the Taipei-Shanghai forum in Shanghai.
Photo: Chang Chia-ming, Taipei Times
Xi has proposed the idea of a "community of common destiny" as a new cross-strait catchphrase under the 'one China' principle," Yao said, adding that Ko's assimilation of Xi's political language cannot break the deadlock in cross-strait relations.
Yao, who has announced his intention to run for Taipei mayor in the mayoral and city council elections next year, said he supported pragmatic interactions between Taiwan and China, but not under Ko's framework of cross-strait relations.
Ko said both sides of the Strait, though full of disagreements and arguments, should settle differences with harmonious "bedroom" relations, but Yao questioned Ko's plan to reconcile with China.
"If a 'disagreement' — like China's intervention in the cutting of diplomatic ties between Taiwan and Panama — is to be settled with 'make-up' cooperation between Taipei's Neihu District (內湖) and Shanghai's Pudong, is that what Taiwan wants?" Yao said.
China was also behind Taiwan's failed attempt to participate in the World Health Assembly in May and that conflict could not be settled with the agreements inked between the two cities, Yao said.
Ko signed four memorandums of understanding with Shanghai at the forum to facilitate cooperation on urban management, e-commerce, university exchanges and basketball tournaments.
Yao said he had expected Ko to bring up the arrest of Taiwanese human rights advocate Lee Ming-che (李明哲) — a Taipei resident who is being detained by Chinese authorities on charges of state subversion — and negotiate for China's participation in the Taipei Universiade in August, as China said that it would not participate in team sports competitions.
Ko, who did not mention either of those issues at the forum, has drifted away from the DPP in terms of basic political beliefs and city developmental philosophy, Yao said.
"It is time to break up [with Ko]. The DPP should no longer consider renewing its alliance with Ko," Yao said.
The DPP has not caused the cross-strait standstill, which is the result of China's suppression of Taiwan and its attempt to impose its "one China" principle, Yao added.
Comments will be moderated. Keep comments relevant to the article. Remarks containing abusive and obscene language, personal attacks of any kind or promotion will be removed and the user banned. Final decision will be at the discretion of the Taipei Times.