MOJ guarantees personal safety of Zain Dean
DEFEATED: The British Supreme Court rejected Zain Dean's argument that prisons in TaIwan did not conform to standards set by the European Convention on Human Rights
Ministry of Justice (MOJ) officials yesterday guaranteed the personal safety of British national Zain Dean, adding that he would serve his sentence in Taipei Prison's newly expanded wing furnished with amenities that conform to international standards.
The Taiwan High Court in July 2012 sentenced Dean, a British citizen of Indian descent, to four years in prison for hitting and killing a newspaper delivery man while driving under the influence of alcohol in March 2010.
He was supposed to begin serving his sentence in 2012, but fled Taiwan in August that year using a British friend's passport.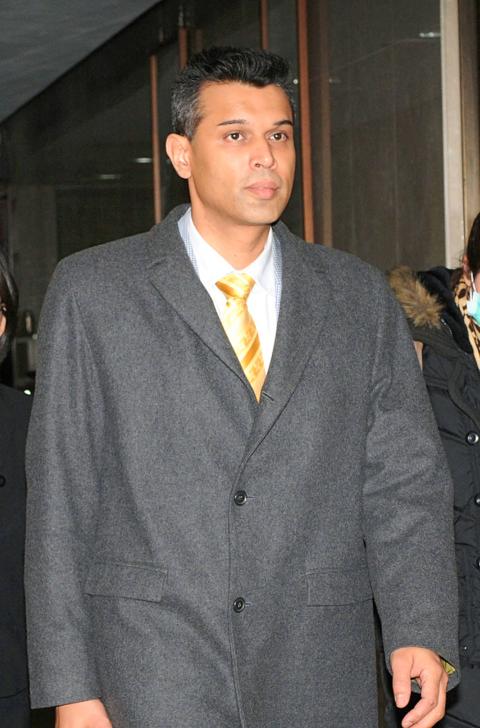 British national Zain Dean is pictured in an undated photograph. Ministry of Justice officials yesterday guaranteed the personal safety of Dean, saying he would serve his sentence in Taipei Prison's newly expanded wing.
Photo: CNA
He has been in custody for more than three years after being arrested in Scotland in October 2013.
The announcement came a day after the British Supreme Court ruled in favor of Taiwan and rejected Dean's challenge against Taiwan's extradition request.
Deputy Minister of Justice Chen Ming-tang (陳明堂) welcomed the British court's decision.
"If the extradition process goes through, we will place Zean at Taipei Prison's new expanded wing, which is furnished with amenities specifically for foreign nationals to serve their sentences," Chen said.
The ministry last year started building new incarceration facilities and upgrading existing ones in a bid to provide one bed for each inmate — a policy that some prisons are already implementing, Chen said.
"We want to conform to the basic standards set by the UN regarding inmates," Chen said.
He said Dean's personal safety will be guaranteed if he is extradited and placed in Taipei Prison's new wing, where inmates are to have their own beds and 1.1 ping (3.64m2) of personal space in their cells.
Taipei Prison's expanded wing is scheduled to open in September and is to offer Western-style meals at least once a week, which could include hamburgers, spaghetti or sandwiches, Agency of Corrections officials said.
It is to offer vegetarian meals on request and can also provide halal meals for Muslim inmates, the officials said.
Chen thanked Scotland's Lord Advocate James Wolffe QC, who represented Taiwan in its extradition request.
Wolffe appealed September last year's ruling by the Scottish High Court of Justiciary, which ruled in favor of Dean based on his argument that prison conditions in Taiwan did not meet the requirements set by the European Convention on Human Rights.
Wolffe said this was a landmark case, as it was the first time that Taiwan filed an extradition in Britain after Taiwan and the UK signed a memorandum of understanding on judicial collaboration and on extradition requests, Chen said.
"Wolffe filed an appeal against last year's ruling, and the UK Supreme Court agreed to consider the appeal. Both actions have a special meaning for Taiwan's justice system and we are glad to learn of the decision," Chen said.
Additional reporting by CNA
Comments will be moderated. Keep comments relevant to the article. Remarks containing abusive and obscene language, personal attacks of any kind or promotion will be removed and the user banned. Final decision will be at the discretion of the Taipei Times.