Controversial statues are simply stone: Ko Wen-je
People can consider the statues of historical figures on school campuses as just stone and not care about their meaning, Taipei Mayor Ko Wen-je (柯文哲) said yesterday, adding that he is planning a way to deal with the issue "properly."
Ko made the remarks at the launch of the Taipei City Government's annual municipal administration summer camp for students. The camp's first session is attended by undergraduate and graduate students.
A student from National Chiao Tung University said he used to see Chiang Kai-shek's (蔣介石) bronze statue at the Taipei Municipal Jianguo High School's front gate when he was a student there, and asked Ko what the city government would do regarding such statues on campuses and in government institutions to ensure transitional justice.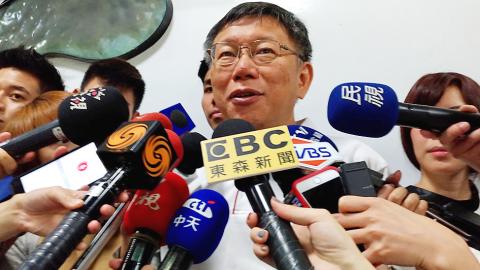 Taipei Mayor Ko Wen-je speaks to reporters in Taipei yesterday.
Photo: Chang Yi-chen, Taipei Times
"That is a sharp question to ask in front of all these journalists," Ko jokingly said. "There are many statues of historical figures in Taiwan, such as Sun Yat-sen (孫中山), Wu Chih-hui (吳稚暉), Chiang, Lin Sen (林森) and Yu You-jen (于右任), so I have been thinking about whether I should deal with the statues altogether, or only the ones of Chiang."
Ko said he has been reading Buddhism's Diamond Sutra and was inspired by the four manifestations of self, adding: "It is a world full of labels, meaning that you label an object you see and react to the object because of that label."
"Honestly, why do you not just see them [the statues] as stone?" Ko said, quoting the Zen Buddhist teaching: "It is not the wind or the flag that is moving, it is your heart that is moving."
"The meaning of the statue is given to it by the viewer, but the question is why do they care so much about it?" Ko asked.
"After being mayor for a while, I realized that most people only pursue a stable life with ensured meals every day, they do not care so much about Taiwanese independence or unification with China, nor about the pan-green or pan-blue political camps," he said.
Comments will be moderated. Keep comments relevant to the article. Remarks containing abusive and obscene language, personal attacks of any kind or promotion will be removed and the user banned. Final decision will be at the discretion of the Taipei Times.