MRT paper flushing touted
To promote the flushing of toilet paper, Environmental Protection Administration (EPA) Minister Lee Ying-yuan (李應元) yesterday demonstrated how to do so in the public toilets of Taipei's Ximen MRT Station.
Flushing paper could improve the world's perception of the nation, Lee said.
The EPA in March announced that used toilet paper should be flushed instead of being disposed of in waste bins.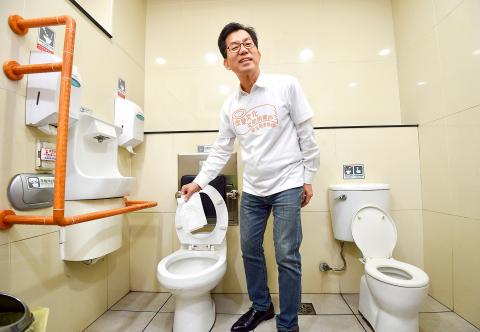 Environmental Protection Administration Minister Lee Ying-yuan promotes the flushing of toilet paper at Ximen MRT station in Taipei yesterday.
Photo: Peter Lo, Taipei Times
However, after several months of spreading the message, some still doubt the policy's feasibility.
There are 902 public toilets in Taipei, but only 375 of them are in compliance with the policy, Chinese Nationalist Party (KMT) Taipei City Councilor Chin Huei-chu (秦慧珠) said earlier this month.
As many agencies could not comply with the directive owing to old pipes, authorities should reconsider its practicality, she added.
Lee yesterday said that most public toilets can flush away toilet paper, and those that cannot would be improved soon.
"Thousands of foreign visitors will come to Taiwan [in August] for the Universiade in Taipei. If they find people in Taipei still discarding toilet paper in waste bins, they would think the nation is not civilized," he said.
People should change their ideas and keep up with international trends, he said, adding that "toilet paper has no problems. It is users who have problems."
Public facilities are required to post signs promoting the policy by the end of this month, EPA Department of Environmental Sanitation and Toxic Substance Management Director Yuan Shao-ying (袁紹英) said, adding that the EPA will begin inspecting the facilities from next month.
Those still unable to comply with the policy should put up signs explicitly telling users not to flush away tissue paper, Yuan added.
Public facilities without proper signs would not be fined, but those with dirty surroundings would be subject to a fine of between NT$1,200 and NT$6,000 in accordance with the Waste Disposal Act (廢棄物清理法), he said.
Toilet paper that is not disposable, like facial tissue paper, may not be sold within a 10m-radius of public lavatories, he added.
The EPA said it would spend NT$10 million (US$328,947) in the second half of this year to inspect public toilets nationwide, starting with facilities at transportation hubs.
The EPA is also budgeting about NT$4 billion for a seven-year plan to improve the nation's 40,000 public toilets, he said, adding that school toilets are not to be included.
Comments will be moderated. Keep comments relevant to the article. Remarks containing abusive and obscene language, personal attacks of any kind or promotion will be removed and the user banned. Final decision will be at the discretion of the Taipei Times.