Makeover for brewery proposed
WELL-CRAFTED: The plan to repurpose Jianguo Beer Factory's historic buildings includes production of a new craft beer and space for the city government's use
A proposal to repurpose the Jianguo Brewery in Taipei into a tourist attraction and performance space has been submitted to the city council for review, Taiwan Tobacco and Liquor Corp (TTL, 台灣菸酒公司) said.
The 5.2 hectare brewery, built in 1919, was the only facility producing beer in Taiwan during the Japanese colonial era.
The company proposed preserving and repurposing the site's historic buildings for commercial purposes under a project entitled "Fun Arts Space."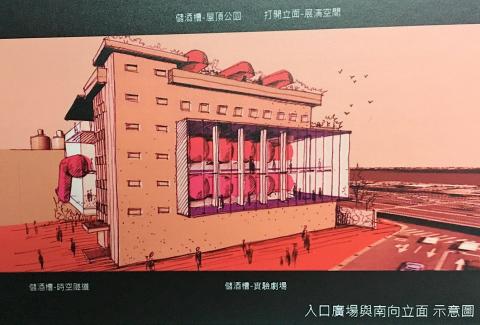 An illustration of the proposed redevelopment of the Jianguo Beer Brewery is pictured on Thursday last week.
Photo: Chang Kai-hsiang, Taipei Times
The brewery would continue to produce classic Taiwan Beer, project designer Ho Tai-wen (何黛雯) said, adding that the open-air fermentation tanks, the original 300-hectoliter aluminum drums and the four bronze saccharification tanks imported from Germany would all be opened to tourists.
The site is one of only 10 worldwide that have bronze saccharification tanks and is the only one to still produce beer, TTL said.
The plan also includes the production of another line of craft beer in the original packaging building, Ho said, adding that the park to the northwest of the brewery and the original plaza would be used for recreational activities.
The original storage building would be used for rehearsals of various types of performances, Taipei Department of Cultural Affairs Commissioner Chung Yung-feng (鍾永豐) said.
With Huashan Cultural Creative Park and Syntrend Digital Park nearby, it should offer art troupes and performers ample opportunities to perform, he said, adding that he is looking forward to the rich nightlife that would spring up in the area.
The intended changes are to be exhibited from Friday to July 23, TTL chairman Wu Jung-hui (吳容輝) said, adding that should the project receive the city council's approval, the company would then seek bids from contractors.
The Taipei City Government would also be entitled to 40 percent of the site's 21,157m2 for other uses should the project go through, the company added.
Comments will be moderated. Keep comments relevant to the article. Remarks containing abusive and obscene language, personal attacks of any kind or promotion will be removed and the user banned. Final decision will be at the discretion of the Taipei Times.