Missile interception test successful, air force says
The air force yesterday said it had successfully intercepted a Sky Bow II (Tien Kung II) missile, using a Patriot II missile, during a test in the morning.
The Sky Bow II, a surface-to-air missile developed by the Chungshan Institute of Science and Technology, was fired from Taitung County's Chenggong Township (成功) at 6:35am, the air force said.
It was successfully intercepted over Green Island (綠島) by a US-made Patriot II missile fired from Jupeng Base in Pingtung County, it said.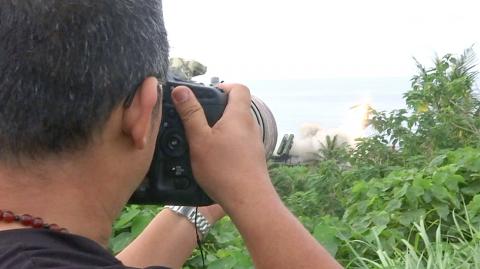 A military enthusiast yesterday photographs the firing of a Patriot II missile in Taitung County's Chenggong Township.
Photo: Wang Hsiu-ting, Taipei Times
Members of the public started to gather in Chenggong Township as early as 4am to watch the launch, an event that one spectator described as the nation's "most expensive fireworks show."
The test firing of a next-generation Sky Bow III missile was scheduled for last year, but was postponed and a Sky Bow II was used instead.
Meanwhile, the air force denied a local Chinese-language media report that it was a Patriot III missile that was used in the intercept.
A Patriot II missile is fired during a live fire exercise by the military in an undated file photo.
Photo: File Photo
According to military sources, the US has not given permission for live test firing of Patriot III missiles outside its territory.
Comments will be moderated. Keep comments relevant to the article. Remarks containing abusive and obscene language, personal attacks of any kind or promotion will be removed and the user banned. Final decision will be at the discretion of the Taipei Times.