Groups call for public Hoklo TV
A coalition of civic groups yesterday urged the government to establish a Hoklo-language (also known as Taiwanese) public television station to promote local culture and native language instruction.
Thirty-four groups led by the Taiwan Citizen Participation Association and the Taiwan Society called on the government not to ignore repeated calls for a station dedicated to Hoklo language and culture.
Although Hoklo is spoken by the majority of Taiwanese, the dominant media language is Mandarin, which hinders the development of Hoklo, Hakka and Aboriginal languages, the groups said.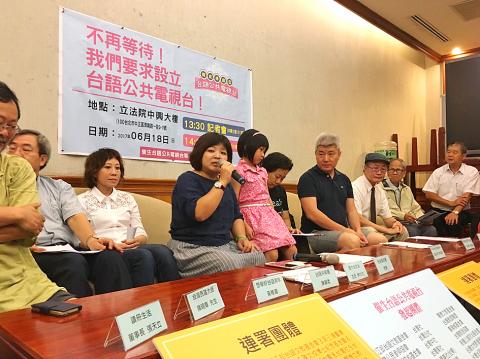 Civic groups hold a news conference in Taipei yesterday to discuss their demands for a Hoklo-language station as part of the public television system.
Photo: Yang Chun-hui, Taipei Times
While it is legitimate to prioritize the preservation of Hakka and Aboriginal languages with specialized media, the nation is gradually losing its Hoklo heritage and the language should also be protected, they said.
Although Hoklo is spoken by 81.9 percent of Taiwanese, there are no laws, independent government agency or television station dedicated to the language's development, association chairman Ho Tsung-hsun (何宗勳) said.
Taiwanese who speak Aboriginal languages account for 1.4 percent of the total population, and their languages are protected by the Aboriginal Language Development Act (原住民族語言發展法), the Council of Indigenous Peoples and Taiwan Indigenous TV, Ho said.
Hakka-speaking Taiwanese account for 6.6 percent of the population, and their culture is promoted by the Hakka Basic Act (客家基本法), the Hakka Affairs Council and Hakka TV, he added.
"Former minister of culture Lung Ying-tai (龍應台) under the Chinese Nationalist Party [KMT] administration expressed a vision for a Hoklo-language station. Why does the Democratic Progressive Party government not dare to say the same?" singer Chen Ming-chang (陳明章) said.
"Laws or budgets are not the problem — the problem is a [lack of] resolve," Chen said.
Minister of Culture Cheng Li-chiun (鄭麗君) had announced that a Hoklo-language radio station would be established.
However, she has not made any clear statement responding to calls for the establishment of a Hoklo TV station, Chen said, criticizing the government's passivity over the issue.
Taiwan Society vice president Tiunn Hok-chu (張復聚), who is also a physician, said many patients can only speak Hoklo, and doctors should speak to patients in their native languages to ensure high-quality communication and treatment.
Taiwanese below the age of 40 can usually understand Hoklo, but do not speak the language, and it is feared that later generations would not even be able to understand it, he said.
"We are all culpable if our native language disappears after 30 years," Tiunn said.
Comments will be moderated. Keep comments relevant to the article. Remarks containing abusive and obscene language, personal attacks of any kind or promotion will be removed and the user banned. Final decision will be at the discretion of the Taipei Times.