'Tombstone' path irks Taichung residents
The stones used in a sidewalk in front of renovated Japanese-era dorms at Cingshuei Elementary School in Taichung resemble tombstones, local residents said, adding that the sidewalk's undulating profile also poses a danger to public safety.
The city government spent NT$70 million (US$2.31 million) to restore the dormitories in the city's Cingshui District (清水), which were severely damaged.
The restoration created a new attraction in the area, residents said, but added that the raised sidewalk was an eyesore.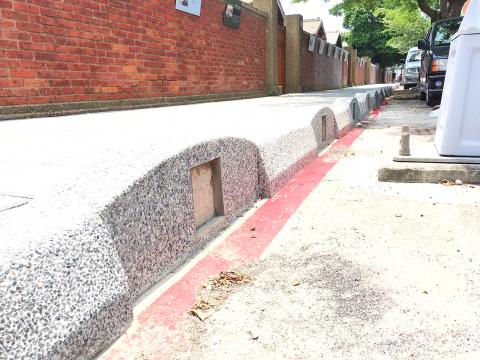 A raised sidewalk outside the Japanese-era dorms at Cingshuei Elementary School in Taichung's Cingshuei District is pictured on Monday.
Photo: Chang Hsuan-che, Taipei Times
The grey stucco finish of the footway, coupled with the blocky stones, makes it appear like a row of tombstones, a local resident, surnamed Chen (陳), said, adding that rectangular indentations on the stones seemed like they were made to hold photographs of the deceased.
The blocky stones also pose a public danger as people can trip over them, Chen said.
Chinese Nationalist Party (KMT) Taichung City Councilor Shen Yu-lien (沈佑蓮) last month brought up the issue during a city council meeting, saying that the sidewalk has caused at least three incident this year, and called on the city's department of cultural affairs to remedy the situation.
Whether the footway resembled tombstones was up to the individual, said Yang Pei-heng (楊培亨), director-general of a local cultural-creative organization, adding that the older generation might have reservations about the design.
However, the group hopes that the administrations of restored historical establishments would consider both safety and aesthetics, Yang said, adding that this is the only way the public can become immersed in the environment.
The sidewalk was suggested by the school, Taichung Cultural Assets Department Director Tang Kuo-jung (湯國榮) said, adding that students' pottery works would be placed into the rectangular indentations.
We did not think that residents would walk on the road at night and trip over the raised path, Tang said, adding that the department would place glow-strips as a temporary solution.
The department would consider the possibility of improving the sidewalk after the contractor's guarantee for its construction expires, Tang said.
Comments will be moderated. Keep comments relevant to the article. Remarks containing abusive and obscene language, personal attacks of any kind or promotion will be removed and the user banned. Final decision will be at the discretion of the Taipei Times.