Environmentalists riled by Formosa extension
The Yunlin County Government yesterday extended Formosa Petrochemical Corp's (台塑石化) permits for its coal-fired boilers, upsetting environmentalists' hopes of reducing air pollution in the county.
On Saturday, the Anti-Air Pollution Alliance and other groups marched in the county's Douliou City (斗六), urging the county government not to extend the 12 permits at the company's naphtha cracker plant in the county's Mailiao Township (麥寮) that expired on Sunday.
More than a thousand people attended the march, alliance spokesperson Chiang Yiao-hsian (蔣耀賢) said.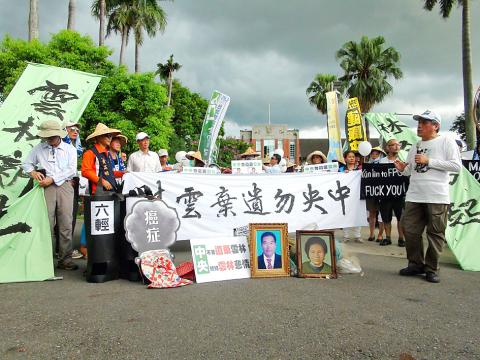 Environmental groups protesting against air pollution in Yunlin County yesterday hold banners demanding that Formosa Plastics Group halts the expansion of the sixth naphtha cracker in county's Mailiao Township.
Photo: Lin Kuo-hsien, Taipei Times
However, the Yunlin County Environmental Protection Bureau decided to extend the company's 12 permits, as well as one that was set to expire next month.
The plant's emissions have to be within the bureau's standards for pollutants, such as PM2.5 and heavy metals, air quality protection and noise control section chief Liao Chong-huan (廖崇圜) said in a press release yesterday.
The bureau can ask the plant to reduce power generation from October to March when the northeastern monsoon worsens the county's air quality, he said, adding that the new permits are valid until June 11, 2019.
Since last year, the company's permits have been extended contingent upon a reduction in the amount of coal burned, with the biggest cut being 532,000 tonnes, the bureau said.
Angry with the result, the alliance asked the Control Yuan to investigate the accountability of Yunlin County Commissioner Lee Chin-yung (李進勇) and Environmental Protection Administration (EPA) Minister Lee Ying-yuan (李應元), who they said were working to benefit the corporation.
Lee Chin-yung had broken his promise to ban the use of coal and petroleum coke in a draft act prepared and published by the county in 2015, Chiang said.
The EPA rejected that bill, saying the ban was related to nationwide energy policy and could not be implemented by a local government alone, Chiang said, adding that Lee Chin-yung promised he would file for a constitutional interpretation, but failed to do so.
The alliance said it would seek more support and continue its fight against the company.
Comments will be moderated. Keep comments relevant to the article. Remarks containing abusive and obscene language, personal attacks of any kind or promotion will be removed and the user banned. Final decision will be at the discretion of the Taipei Times.