Premier commends officials for biggest heroin bust
Premier Lin Chuan (林全) yesterday commended the law enforcement and Coast Guard Administration (CGA) officials who took part in the nation's largest heroin seizure to date and reiterated the nation's commitment to fighting drugs.
Kaohsiung preosecutors, investigators, police and CGA personnel on Friday seized 693kg of heroin, estimated to have a street value of about NT$10 billion (US$332 million), found on a fishing boat off Kinmen County.
Acting on a tip-off that a fishing boat registered to Pingtung was trying to smuggle drugs into the nation, the coast guard intercepted the boat 12.5 nautical miles (23.15km) southeast of Wuchiu Island (烏坵) and seized 1,800 bricks of heroin.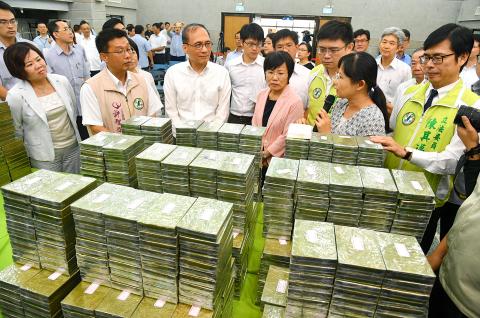 Premier Lin Chuan, third left, inspects 693kg of heroin seized on Friday off Kinmen County during a visit to Kaohsiung yesterday to reward the police and Coast Guard Administration personnel who seized the drugs.
Photo: Chang Chung-yi, Taipei Times
The boat's captain and four other crew were arrested.
The informant is to be awarded NT$10 million in cash and law enforcement personnel taking part in the seizure are to share NT$6 million.
The heroin would be enough to make the nation's 23 million people addicted if it were to enter the market, Minister of Justice Chiu Tai-san (邱太三) said yesterday.
According to ministry data, law enforcement agents seized 5,507.2kg of drugs from June last year to March, exceeding the total 4,840.2kg of drugs confiscated in 2015.
The government has rolled out new measures to fight drug trafficking and drug-related crimes, and a database to collate the known associates of drug users and traffickers is to be created to help law enforcement personnel predict and track dealers, Lin said.
Efforts have to be made to crack down on drug manufacturing and smuggling to reduce the supply of prohibited substances in the nation, he said.
"Cooperation between schools and the police has to be increased to minimize the risk of exposing young people to drug abuse. More importantly, addicted people will be given rehabilitation treatment so that they can have the opportunity to reintegrate into society," Lin said.
"A coordinated effort against drug trafficking by the government and the public is necessary to put Taiwan on the map. Like the healthcare system, the nation's achievements in fighting drug-related crimes should be known to the world," he added.
Comments will be moderated. Keep comments relevant to the article. Remarks containing abusive and obscene language, personal attacks of any kind or promotion will be removed and the user banned. Final decision will be at the discretion of the Taipei Times.