Commerative coins of Tsai and Chen sell out in first year
Coins commemorating the inauguration of President Tsai Ing-wen (蔡英文) and Vice President Chen Chien-jen (陳建仁) sold out in the first year, setting a record, the Bank of Taiwan said on Friday.
Silver coins commemorating Tsai and Chen sold out on Friday, the eve of the anniversary of their first year in office, the bank said.
The Central Bank of the Republic of China on May 20 last year began selling gold and silver coins commemorating the inauguration of Tsai and Chen through the Bank of Taiwan. Gold coins were sold for NT$48,000 apiece, while silver coins sold for NT$1,600 each.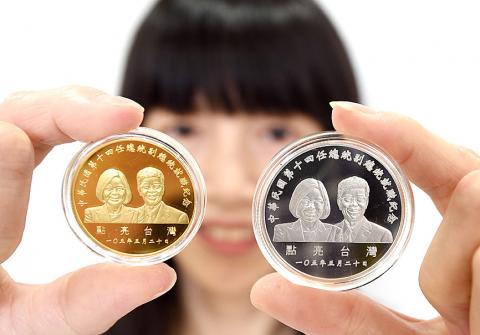 A woman in May last year holds up two coins commemorating President Tsai Ing-wen's and Vice President Chen Chien-jen's first year in office.
Photo: Peter Lo, Taipei Times
Gold and silver coins to commemorate then-president Ma Ying-jeou (馬英九) and then-vice president Wu Den-yih (吳敦義) in 2012 sold for NT$42,600 and NT$1,400 respectively, with 10,000 gold coins and 50,000 silver coins produced.
In 2012, 801 gold coins and 8,719 silver coins depicting Ma were sold in opening sales.
By comparison, last year all gold coins of Tsai and Chen were sold, and 77.38 percent of the silver coins produced were sold out on the first day of sales. Of the total 38,689 silver coins produced the last were sold on Friday, with buyers saying they wanted the coins to remember the nation's first female president.
About 8,000 gold coins and 20,000 silver coins of Ma and Wu were sold during the four years of that administration, the Bank of Taiwan said, adding that it has already sent the remaining inventory back to the central bank to be melted down.
The gold coins, which at their height were sold for NT$54,000 each, represent the greatest loss to date from a commemorative government product at a loss of about NT$20,000 per coin at current market value.
One coin reseller said that values of commemorative coins fluctuate with changes in the market values of the metals measured in ounces.
Gold is about NT$36,000 per ounce at present, he said.
The best investment and rate of return has been for then-president Chen Shui-bian (陳水扁) and then-vice president Annette Lu (呂秀蓮) in 2000.
"The Chen/Lu gold coin sold for NT$15,000 at the time. Today the coin sells for 140 percent its original price," he said.
Comments will be moderated. Keep comments relevant to the article. Remarks containing abusive and obscene language, personal attacks of any kind or promotion will be removed and the user banned. Final decision will be at the discretion of the Taipei Times.