New Southbound Policy: Tsai's first year in office marked by focus to south
POLICY IN PRACTICE: A businessman has opened a training center in Indonesia, boosting the skills of the local workforce and putting Taiwanese products to use
President Tsai Ing-wen (蔡英文) marks the first anniversary of her presidency today. In many early initiatives by the government, Tsai has been putting resources into executing the "new southbound policy" in an attempt to broaden the nation's economic, trade, and cultural ties with South and Southeast Asian nations to pave the way for Taiwan's long-term economic growth.
"The Southeast Asian countries and India are expanding rapidly in economy. This is an opportunity that Taiwan cannot miss to grow in tandem with them and secure a position in Asia," Minister Without Portfolio John Deng (鄧振中) told the Taipei Times in an interview in Taipei on Tuesday.
The policy, which runs according to the motto "people orientated," seeks collaboration with 18 nations under the principles of reciprocity and equality.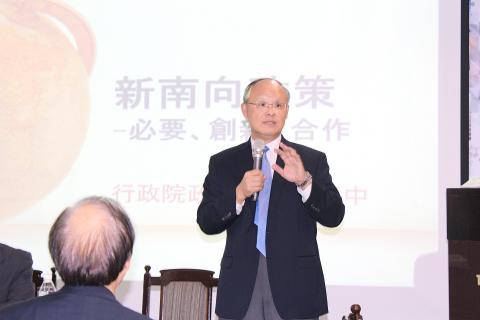 Minister Without Portfolio John Deng on Nov. 25 last year addresses a business forum in Taipei about the "new southbound policy."
Photo: CNA
It covers 10 Southeast Asian nations, six in South Asia, as well as Australia and New Zealand. The nations receiving top priority are Thailand, Indonesia, Vietnam, Malaysia, the Philippines and India for the early stage of the policy.
Deng, who is head of the Office of Trade Negotiations, said some people might compare the "new southbound policy" to China's "One Belt, One Road" initiative, as the geographic scope of the Chinese policy in ASEAN, including Vietnam, Thailand and Malaysia, overlaps with Taiwan's.
However, in terms of collaboration on projects in ASEAN, China focuses on building large facilities, while Taiwan provides value-added, total solutions to improve existing infrastructure, such as introducing electronic toll collection systems, Deng said.
"The market segments that Taiwan and China target are different. There is no conflict of interests," Deng said.
Deng said the core value of the "new southbound policy" is not only to forge solid trade relationships, but also to increase engagement with the governments, institutions and people.
"We do not just view the countries as markets for us to do business there. We care about what we could provide to benefit the partnered countries and people there in the long term," he said.
With a focus on people, Tsai's government aims to deepen bilateral exchanges and cultivation of students, academics and industry professionals through the efforts of the government and the private sector.
For instance, a Taiwanese businessman, surnamed Kao (高), has founded a technical vocation center, PT Formosa Teknologi Sentral, in Indonesia to provide training programs for high-school-equivalent graduates or factory workers, Deng said.
The center is offering courses on subjects such as computer numeric control, human-machine interface control and programmable logic control, all of which use Taiwanese machines and materials, the Office of Trade and Negotiations said.
The first batch of students recently graduated from the program and the second batch of students are to begin their training, Deng said.
Such investment in training is reciprocal; not only can it improve the the standard of the Indonesian workforce and enhance the operational efficiency of overseas Taiwanese enterprises, but also increase exports of machinery tools and software, Deng said.
"It is a necessary approach to train local technicians and management talent, as Taiwanese enterprises do not have sufficient personnel to be stationed in overseas markets, partly due to our aging society and industry structure," he said.
Smartphone chip designer MediaTek Inc (聯發科) in December last year invited 42 executives and senior engineers from Indian smartphone vendors, including Micromax Informatics Ltd, to participate in a six-week handset hardware design development program hosted by the company in Taiwan.
Deng said MediaTek's program helped the Indian government to meet its rising demand for smartphone hardware and system design talent.
It also benefited the Taiwanese firm's image in the Indian market, he said.
The government encourages more firms to initiate similar programs in Taiwan, ASEAN or South Asia, as it would bolster their presence, he added.
Deng said one of the focuses of the "new southbound policy" is to share Taiwan's resources from a wide range of fields — including agricultural technology, and healthcare and tourism resources — with partner nations.
Linkou Chang Gung Memorial Hospital, Show Chwan Memorial Hospital, E-da Hospital and three other domestic hospitals in September last year established medical referral platforms in Indonesia, Deng said.
He said that for domestic hospitals willing to dispatch personnel to conduct medical training for healthcare workers in Southeast Asia or open training programs in Taiwan, the Ministry of Health and Welfare would increase the hospitals' points in the government's annual rating system.
The government aims to attract more students from ASEAN and South Asia by enlarging the scale of scholarships in an effort to build a strong network, and increase mutual understanding about cultural issues and academic exchanges, Deng said.
The Ministry of Education's statistics showed that the number of students from the 18 countries was 31,531 last year, an increase of nearly 10 percent from 28,741 in the 2015 academic year.
"Our goal is to grow the number to 58,000 by the 2019 academic year," Deng said.
He said the number of tourists has increased significantly after the government launched the "new southbound policy" a year ago.
More than 1.63 million tourists from the 18 nations visited Taiwan from June last year to March, jumping 22.61 percent from the same period a year earlier, he said, citing official statistics.
As part of an effort to reach the goal of 2.2 million tourists by 2019, the government waived visas from Thailand and Brunei last year, and is to offer the Philippines visa-free travel from September, Deng said, adding that local governments have also been helping restaurants to obtain halal certification to attract Muslim tourists.
Ministry of Finance data showed that combined exports to the 18 partner nations rose 7.52 percent annually to US$57 million from May last year to March, while imports from them increased 16.47 percent year-on-year to US$36.87 million in the same period.
Deng said the government has a bank guarantee facility with NT$50 billion (US$1.66 billion) in funding aimed at helping small and medium-sized enterprises invest in ASEAN and South Asia, with the goal of helping smaller firms enter the markets.
"The policy has started to bear fruit after nearly one year of effort from the government and private sector," Deng said.
The first year of a new policy is always the most difficult one, he said.
The government had to build an efficient cross-ministry platform involving hundreds of officials, as well as explain the core values and goals of the "new southbound policy" to the public, he said.
"One year ago, it was a new policy that the government had more passion for than the public," Deng said. "Now we feel a boost in enthusiasm from enterprises, institutions and Taiwanese."
As the policy enters its second year, Deng said the government aims to enhance its communication with Southeast Asian governments and enterprises, promoting economic and social cooperation between the countries to expand growth opportunities in regional markets.
However, Deng said it is not enough for Taiwan to unilaterally commit to the policy, as successful economic and cultural ties require the governments of both sides to show equal enthusiasm to collaborate in terms of sharing agriculture, public health and tourism resources.
The Taipei Times is to publish a series of articles focusing on President Tsai Ing-wen's government's "new southbound policy" in collaboration with the Office of Trade Negotiations of the Executive Yuan. The articles are to be printed every Saturday.
Comments will be moderated. Keep comments relevant to the article. Remarks containing abusive and obscene language, personal attacks of any kind or promotion will be removed and the user banned. Final decision will be at the discretion of the Taipei Times.