Chen Shui-bian given permission to attend fundraiser
Taichung Prison yesterday granted conditional permission to attend a fundraising dinner in the evening. to former president Chen Shui-bian (陳水扁), who is on medical parole after being convicted of corruption.
The prison, where Chen was incarcerated, said the former president could attend the annual dinner hosted by the Ketagalan Foundation, but added that he could not enter the venue where the dinner was held and could only meet people outside.
The foundation is a political organization and any fundraiser it holds is categorized as a political event, the prison said, adding that inmates on medical parole are barred from attending political or election campaign events.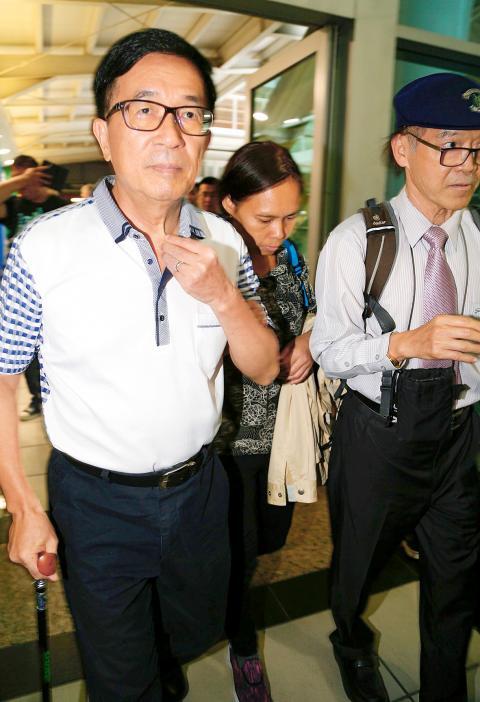 Former president Chen Shui-bian attends a fundraising dinner in Taipei yesterday.
Photo: CNA
However, after Kaohsiung Chang Gung Memorial Hospital's medical team suggested that the trip would be beneficial to Chen's health, the prison said he could meet friends at "a proper location" near the venue.
Chen cannot take the stage or give a speech either, the prison said.
The conditions of Chen's medical parole bar him from discussing politics and giving interviews.
Chen, who founded the foundation in 2003, wanted to deliver a 10-minute non-political speech at yesterday's event, the prison said.
Shortly after his term in office ended in 2008, Chen was convicted of corruption, sentenced to 20 years in prison and fined NT$250 million (US$8.28 million at the current exchange rate).
He served six years of his prison sentence until January 2015, when he was released on medical parole due to his declining health, and has since been living in Kaohsiung.
Comments will be moderated. Keep comments relevant to the article. Remarks containing abusive and obscene language, personal attacks of any kind or promotion will be removed and the user banned. Final decision will be at the discretion of the Taipei Times.