Shrimp crackers found to contain expired ingredients
The producer of a popular shrimp snack has been caught using expired raw materials, including bonito extract powder that was nearly three years past its expiration date.
After receiving a tip-off, investigators from the Food and Drug Administration (FDA), local health authorities and prosecutors, on Wednesday raided Yu Zong Foods Co (裕榮食品) in Kaohsiung's Daliao District (大寮), seizing expired bonito extract powder, anhydrous citric acid and red yeast rice powder.
During the raid, the company, which was founded in 1971, was found to have used the expired ingredients in the production of its popular shrimp snacks under the Hsia Wei Hsien (蝦味先) brand, as well as in a soybean powder product, the FDA said.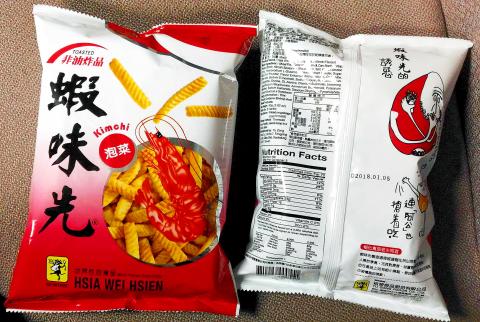 Bags of Hsia Wei Hsien shrimp snacks are pictured in Taipei yesterday. Photo: CNA, provided by the Food and Drug Administration
Four out of the seven flavors of shrimp snacks were found to contain expired bonito extract powder and anhydrous citric acid: kimchi, Mexican smoky, teriyaki, and honey-roasted squid.
Expired red yeast rice powder was used to produce sprouted soybean powder, which Yu Zong Foods made under contract for a biotech company, the FDA said.
The FDA said that 2,371.5kg of expired raw materials and problematic products were seized, and the administration has ordered all five products to be removed from store shelves by midnight tonight.
An investigation has been launched to find out if the company used the expired raw materials deliberately in violation the law, the agency said.
According to the Act Governing Food Safety and Sanitation (食品安全衛生管理法), those who produce, pack, store or sell expired food products are subject to a fine ranging from NT$60,000 to NT$200 million (US$1,985 to US$6.62 million), the FDA said.
Comments will be moderated. Keep comments relevant to the article. Remarks containing abusive and obscene language, personal attacks of any kind or promotion will be removed and the user banned. Final decision will be at the discretion of the Taipei Times.