Ministry tracks Chinese warships in Pacific Ocean
Chinese warships passing through the Miyako Strait and sailing in the Pacific Ocean off Taiwan's coast last week were closely monitored, the Ministry of National Defense said on Wednesday.
Given that the ministry began computer-simulated drills on Monday as part of the 33rd Han Kuang military exercises slated for the end of this month, the ministry said that the timing of the Chinese ships' transit was sensitive, but there was nothing to worry about.
The computer simulation was of an attack by the Chinese People's Liberation Army.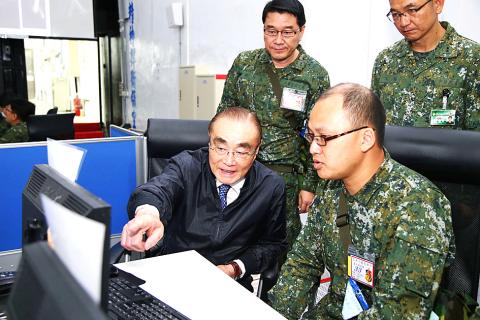 Minister of National Defense Feng Shih-kuan, left, points to a computer screen during an inspection of the Republic of China Air Force Combatant Command in Taipei on Tuesday.
Photo: CNA
Field exercises to test the results of the simulation are to be held from May 22 to May 26, with a large-scale, live-fire drill to be conducted in Penghu County.
As the ships departed China so close to the Han Kuang exercises and Taiwan's own ships were conducting missions in the area, the ministry said that it had closely monitored their passage off the east coast.
Presidential Office spokesperson Sidney Lin (林鶴明) said that the ministry and intelligence agencies closely monitored the Chinese ships, adding that all appropriate measures — including placing forces on alert — were implemented.
The Japanese Ministry of Defense said that three Chinese vessels — two destroyers and a supply ship — passed through the Miyako Strait on Monday last week, heading southeast toward the Pacific.
The Japanese ministry said that a P-3C anti-submarine plane based in Naha, Okinawa, was dispatched to track the ships' passage through Japanese territorial waters.
The ships are on a mission to promote friendly relations with a series of countries and the intended ports of call include the Philippines, Vietnam, and unnamed ports in Africa and Europe, reports said.
The ships arrived in the Philippines on Sunday and were visited by Philippine President Rodrigo Duterte and high-ranking military officials, Xinhua news agency reported.
Duterte said he hoped the Chinese and the Philippine navies could conduct joint naval exercises, Xinhua reported.
Comments will be moderated. Keep comments relevant to the article. Remarks containing abusive and obscene language, personal attacks of any kind or promotion will be removed and the user banned. Final decision will be at the discretion of the Taipei Times.