MOE delays guidelines to next school year
The implementation of curriculum guidelines for the 12-year national education system is to be pushed back a year to September next year, as work to review curriculum guidelines for social studies has yet to be completed, the Ministry of Education (MOE) said yesterday.
Minister of Education Pan Wen-chung (潘文忠) attributed the delay to the reshuffled curriculum review committee, which was formed last year in the wake of controversial revisions to high-school Chinese literature and social studies curriculum guidelines that sparked widespread student-led protests in 2015.
The committee consists of sub-committees comprising students, parents and academics, with members of the latter two groups nominated and approved by the legislature's Education and Culture Committee, Pan said.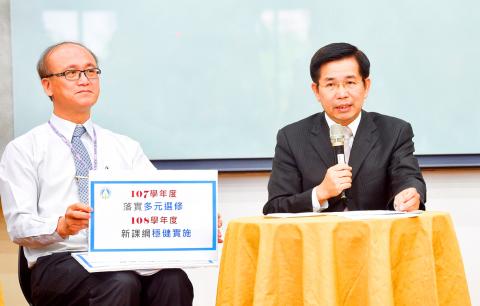 Minister of Education Pan Wen-chung, right, is joined by Deputy Minister of Education Lin Teng-chiao as he speaks at a news conference in Taipei yesterday.
Photo: Peter Lo, Taipei Times
With the exception of guidelines created for social studies, which had to undergo a second review after the controversy broke out, all other guidelines have passed the ministry's review, Pan said.
All new guidelines will be simultaneously implemented in September next year, he said.
Pan was asked about a local report saying that the delay was caused by the National Academy for Educational Research — which oversees the committee — doubling as committee members, which goes against provisions in last year's amendments to the Senior High School Education Act (高級中等教育法).
"We did spend some time making adjustments after finding out about the issue," Pan said.
Adjustments were made to the composition of the committee to ensure that it would be able to operate in an unbiased manner, he said.
The delay in the implementation of the guidelines also means that the students to which they will apply will be different, he said.
Students who are now in their first year of junior-high school, as well as fourth-graders in elementary schools will be the first to be affected by the guidelines, he said.
A new college entrance examination system proposed last month by the College Recruitment Commission that would reduce the number of subject tests from five to four is to be launched on a trial basis in September 2021, he said.
First-graders at junior-high schools will also be the first to be compiling "learning portfolios" that will allow them to provide their achievements on extracurricular activities as references when they apply to universities, he said.
Despite the delay, Pan said that 148 "pilot" high schools have been offering interdisciplinary elective courses — a feature of the 12-year national education system — for students to sign up.
The courses are designed to give students more freedom to pursue their interests and engage in hands-on tasks, thereby gaining knowledge across various fields of study and better priming them for university, he said.
The ministry is also drawing up a plan to push back the timeframe in which high-school students are required to apply to universities amid criticism that the system has affected learning among senior-high school students.
Comments will be moderated. Keep comments relevant to the article. Remarks containing abusive and obscene language, personal attacks of any kind or promotion will be removed and the user banned. Final decision will be at the discretion of the Taipei Times.