Second judicial reform member quits
BOGGED DOWN: False accusations against members of the judiciary were made, while members accused each other of adding or delaying topics, Chen Chung-yen said
Lawyer Chen Chung-yen (陳重言), a member of the preparatory committee for the National Congress on Judicial Reform, issued a statement yesterday announcing his decision to withdraw from the committee.
Chen is the second member to quit the preparatory committee following National Taiwan University professor Lin Yu-hsiung's (林鈺雄) resignation on Tuesday.
Chen said that several important discussions had been conducted in a "black box" behind closed doors, that he had been bogged down by the large number issues discussed and that the committee had removed capital punishment from the agenda without giving a reason.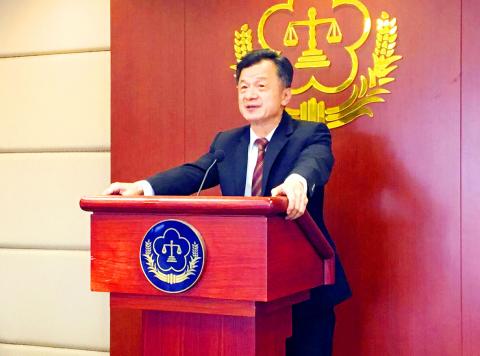 Minister of Justice Chiu Tai-san speaks at a news conference in Taipei, saying that the preparatory committee for the National Congress on Judicial Reform should respond to criticism that its proceedings are being held behind closed doors.
Photo: CNA
Committee members only put forth their views, but were unwilling to communicate and there were proposals that disregarded the nation's financial difficulties and would increase overheads, Chen said.
False accusations against members of the judiciary were made, while members accused each other of adding or delaying topics, Chen said, adding that blatantly disrespectful comments had been made to committee members, government officials and non-governmental participants.
Chen said he could no longer convince himself to devote his time and knowledge to the ongoing debate, especially as he expected issues already decided in the committee to become the subject of renewed debate in the Legislative Yuan, to which the preparatory committee's resolutions would only serve as a reference.
Other methods of participation and legislative oversight might prove more fruitful, Chen added.
In response, Minister of Justice Chiu Tai-san (邱太三) said he hoped Chen would reconsider and take the opportunity to engage in discussion with different people, and that labeling the preparatory committee a "black box" discussion was an exaggeration.
However, the preparatory committee should release details about how it reaches its resolutions, Chiu said.
Chen might not have had the time to review all of the meeting transcripts, Chiu said, and there might be a misunderstanding as the production of the transcripts takes a long time to complete.
Division convener Chiu Hei-yuan (瞿海源) said Chen had been a great contributor and called on the lawyer to return to the committee, adding that he should not despair and return for the final few meetings
An issue as important as capital punishment merited more time and room for discussion, he added.
Speaking on behalf of President Tsai Ing-wen (蔡英文), Presidential Office spokesman Sidney Lin (林鶴明) said that the committee is a necessary platform, and an inevitable process to ensure that all issues of judicial reform are discussed and given deep thought before the government proposes amendments to legislation.
Individual opinions of committee members might differ during the discussions, but that is normal in a democratic society, Lin said, adding that all opinions would be respected.
The committee is about explanation to and dialogue with the public, therefore each issue must be clearly defined and public sentiment must be taken into consideration for the reforms to succeed, Lin said.
The president promised to sit down with the preparatory committee members to discuss making changes to the process, Lin added.
The president wanted to thank all the participants for their contributions, but said the preparatory committee would continue to meet, else the government would be betraying public expectations of reform, Lin said.
Additional reporting by CNA
Comments will be moderated. Keep comments relevant to the article. Remarks containing abusive and obscene language, personal attacks of any kind or promotion will be removed and the user banned. Final decision will be at the discretion of the Taipei Times.