Anti-pension reform group drops May 20 protest plan
People opposing pension reforms yesterday backed away from plans to stage a protest on the one-year anniversary of President Tsai Ing-wen's (蔡英文) inauguration, after division erupted over remarks by National Civil Servant Association president Harry Lee (李來希), who dismissed concerns about a protest's possible impact on students taking the national college entrance exam near the Legislative Yuan and the Presidential Office buildings.
"If the Democratic Progressive Party [DPP] forces through reform, we will take them on on May 20, but if they do not, we will not necessarily do so," National Federation of Teachers' Unions director-general Huang Yao-nan (黃耀南) said, shortly after his union released a statement by the Alliance for Monitoring Pension Reform, announcing protest plans were on hold.
"Whether or not there is a protest is completely up to the DPP," he said.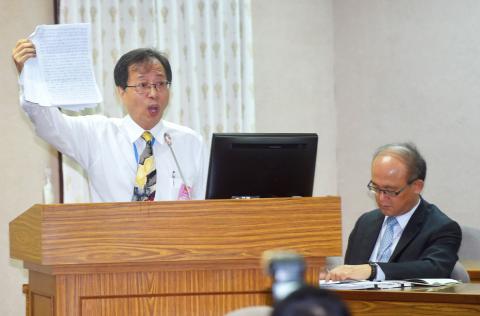 National Civil Servant Association president Harry Lee, left, holds up papers while speaking at a meeting of the Judiciary and Organic Laws and Statutes Committee at the Legislative Yuan in Taipei yesterday.
Photo: Chien Jung-fong, Taipei Times
Huang also backtracked on previously announced plans to protest during the review of reform legislation by the Judiciary and Organic Laws and Statutes Committee, saying that members would instead be encouraged to watch a live broadcast of committee proceedings and call legislators' offices with any criticism.
"We do not know when the review will begin and whether it will stretch from the early morning deep into the night, so it is very difficult for us mobilize," he said.
An earlier protest against the committee review was disorganized and saw a sharp drop in the number of demonstrators.
An emergency alliance meeting was called after Lee made his remarks.
Asked about a protest possibly affecting "innocent" students, Lee said: "Are we not just as innocent as students? What crime have we committed? How are we supposed to maintain our livelihoods? This is just a test — is it really all that important?"
"Are we supposed to stop eating and sleeping just because of this test?" Lee asked.
He added that protests were unlikely to affect Taipei First Girls' High School because the DPP had already decided to restrict access to Ketagalan Boulevard for Tsai's inauguration anniversary, forestalling pension reform protesters from gathering in front of the Presidential Office Building.
The Ministry of Education early this week announced that testing centers at Taipei First Girls' High School and Taipei Chenggong High School, which are both near central government offices, would be moved to prevent noise from protests from affecting students.
The federation promptly issued a statement distancing itself from Lee's remarks, saying that protests "absolutely cannot and will not disturb students taking tests," and promising to protect the interests of students and their parents.
Asked for comment after the alliance's decision, Lee confirmed that his group had conformed with the federation's decision, but denied any connection with his remarks.
The alliance had already applied for the right to rally on the roads around the Legislative Yuan on May 20, but if protests were to be held, participants would avoid holding activities close to Taipei Chenggong High School, Lee added.
Relations between Lee's association and the National Federation of Teachers' Unions have been tense ever since a clash over fundraising led Lee's association to block the union's leaders from its official Facebook page.
Comments will be moderated. Keep comments relevant to the article. Remarks containing abusive and obscene language, personal attacks of any kind or promotion will be removed and the user banned. Final decision will be at the discretion of the Taipei Times.