Minister proposes historic sites and media projects
Minister of Culture Cheng Li-chiun (鄭麗君) yesterday touted the ministry's plans to develop ultra-broadband and "revisit historic scenes" as "very forward-looking" in her explanation of its request for NT$21.46 billion (US$711.6 million) in funds earmarked for the Cabinet's Forward-looking Infrastructure Development Program.
The ministry has submitted subsidy requests of NT$5.66 billion and NT$15.8 billion respectively for its "revisiting historic scenes" and "digital infrastructure construction" projects, Cheng said at a meeting of the legislature's Education and Culture Committee.
The projects would be carried out from this year to 2020, with some work set to continue until 2021, she said.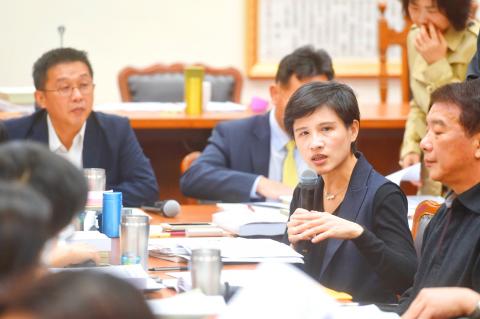 Minister of Culture Cheng Li-chiun, 2nd right, speaks at a meeting of the Education and Culture Committee at the Legislative Yuan in Taipei yesterday.
Photo: Fang Pin-chao, Taipei Times
"Revisiting historic scenes," which was listed as an urban and rural construction project under the Cabinet's plan, would maintain and reinvent historic sites.
It is to incorporate technology into historic sites' introductions to provide visitors with a better understanding of their historical context, she said.
The project is the first in the nation's history to incorporate the concept of "cultural governance," which represents a major step forward, the minister said.
Cultural sites should be added through maintaining and revitalizing existing ones rather than building new ones, which would benefit urban and rural development, Cheng said, adding that future projects proposed by the ministry would be reviewed according to this principle.
The "digital infrastructure construction" project includes plans to develop ultra-broadband services, produce high-resolution television shows, and create TV programs and movies that focus on Taiwanese culture, she said.
The project is to include the establishment of a national cultural database, the creation of TV shows with 4K resolution and the development of over-the-top content — or content distributed online without subscribing to a traditional service — in response to the rise of new media, she said.
Underlining the importance of Taiwanese culture in the broadcasting and film industries, Cheng said that even if bandwidth is upgraded, it would only be "serving other nations' cultures" if there are no programs that promote Taiwanese culture.
Comments will be moderated. Keep comments relevant to the article. Remarks containing abusive and obscene language, personal attacks of any kind or promotion will be removed and the user banned. Final decision will be at the discretion of the Taipei Times.