Rights campaigners press for refugee law
Following a round-table forum with legislators and government officials, international campaigners yesterday called for swift passage of a national refugee act.
The forum in Taipei was sponsored by the Legislative Yuan's International Human Rights Caucus, the Asia Pacific Refugee Rights Network and the Taiwan Association for Human Rights.
New Zealander Allan Mackey, former president of the International Association for Refugee Law Judges, said he and other international participants at the forum were all strongly encouraged by the legislature's taking up of the proposed act.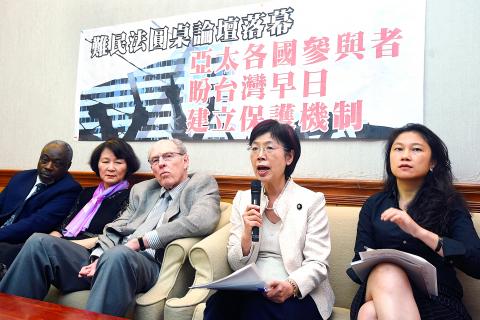 Democratic Progressive Party Legislator Yu Mei-nu, second right, yesterday speaks at a news conference at the Legislative Yuan in Taipei, as Asian Pacific Refugee Rights Network chair Yiombi Thona, left, former International Association for Refugee Law Judges president Allan Mackey, third left, and Taiwan Association for Human Rights members listen.
Photo: Liao Chen-huei, Taipei Times
Passage of a refugee act would represent the completion of the "third leg" of a human rights "stool" that includes the International Covenant on Civil and Political Rights (ICCPR) and the Convention against Torture, he said, adding that asylum should be considered as a right — not a privileged exception to immigration regulations.
"What the world faces now isn't a 'refugee crisis' — I call it a responsibility crisis," said Asian Pacific Refugee Rights Network chair Yiombi Thona, a former Democratic Republic of the Congo intelligence officer who later sought asylum in South Korea.
"Since the beginning of this world, there has forced movement of people — the reason it's become a crisis today is because people are now shutting doors and fearing the stranger," Thona said.
A draft refugee act passed its initial review at the legislature's Internal Administration Committee on July 14 last year, but has yet to come up for a vote in the general assembly.
Asked if she was confident that the proposed act would be passed, Democratic Progressive Party (DPP) Legislator Yu Mei-nu (尤美女) said reporters should "ask DPP caucus whip [Ker Chien-ming (柯建銘)]."
"Educating society" and "sensitive relations with China" were two main challenges that need to be addressed for the legislation to be passed, she said.
"There is a legal provision which clearly states that we will not accept people who have already had the opportunity to seek asylum in other countries, so the vast majority of asylum seekers will be coming from China or Southeast Asia," Yu said.
Legislative approval was also complicated by the need to simultaneously revise the Act Governing Relations with Hong Kong and Macau (香港澳門關係條例) and the Act Governing Relations Between the People of the Taiwan Area and the Mainland Area (臺灣地區與大陸地區人民關係條例).
Comments will be moderated. Keep comments relevant to the article. Remarks containing abusive and obscene language, personal attacks of any kind or promotion will be removed and the user banned. Final decision will be at the discretion of the Taipei Times.