Independence advocate honored with Tainan park
Kaohsiung Mayor Chen Chu (陳菊) and Tainan Mayor William Lai (賴清德) yesterday morning hosted a groundbreaking ceremony for a park commemorating Taiwanese independence advocate Ng Chiau-tong (黃昭堂).
Ng, a former chairman of the World United Formosans for Independence (WUFI), died in 2011 at the age of 79.
Chen and Lai both spoke at the ceremony in Tainan's Cigu Township (七股), where the park is to open early next year, with a statue to be erected by the end of this year.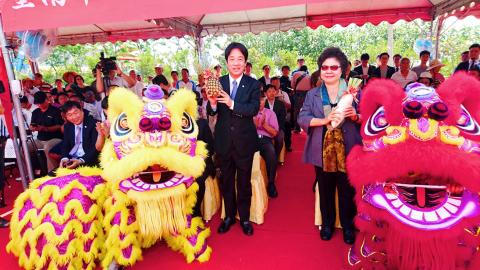 Tainan Mayor William Lai, left, and Kaohsiung Mayor Chen Chu attend a groundbreaking ceremony for a park commemorating independence advocate Ng Chiau-tong in Tainan yesterday.
Photo: Yang Chin-cheng, Taipei Times
"Ng made many contributions to Taiwan in his lifetime. I hope future generations will understand the struggles [that people like Ng went through] in the fight for the nation's democracy and continue working in that spirit for the nation's future," Lai said.
The two mayors were joined by former Taiwanese representative to Japan Koh Se-kai (許世楷), WUFI chairman Chen Nan-tien (陳南天), Ng's younger brother Chiau-hsiung (黃昭雄), Ng Chiau-tong's son Cheng-cheng (黃正澄) and former Tainan mayor George Chang (張燦鍙).
The group spoke of Ng Chiau-tong's contributions to the fight for Taiwanese independence and the deep love he and his wife, Ng Hsieh-lien (黃謝蓮), always held for Taiwan, referring to him as "WUFI's first-generation elder."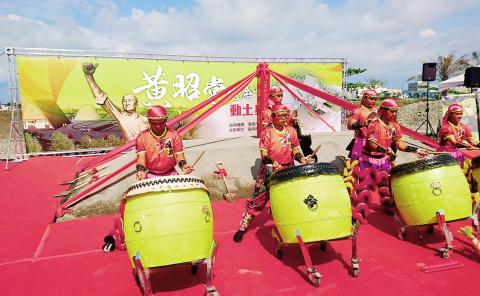 A drum troupe performs at the groundbreaking ceremony for a park in Tainan commemorating independence advocate Ng Chiau-tong.
Photo: Yang Chin-cheng, Taipei Times
Ng Chiau-hsiung repeatedly thanked organizers for building the park, which he said was a great honor for his family.
After Ng Chiau-tong was recognized by the government as a historical political figure in 2013, Longshan Borough (龍山) Warden Wang Wen-tsai (王文財) and Longshan community affairs director-general Tsai Hui-liang (蔡輝良) applied for government funding to build a park in his honor.
After three years of negotiations, the government granted NT$28.9 million (US$951,816) and 1.23 hectares of land for the park, which, in addition to the statue, will feature a stage, an activity square and various installations symbolic of Taiwan, such as a hill of white oyster shells.
Sculptor Lin Ching-hsiang (林慶祥) said the statue would depict Ng Chiau-tong holding a book in his left hand in recognition of his academic achievements and his lifetime study of Taiwan, while the statue's right arm will be held up high to symbolize his spirited, lifelong pursuit of Taiwanese independence.
Chen Chu said Ng Chiau-tong has been fondly recalled and discussed many times since he passed away six years ago, and she hoped he would be remembered by future generations.
Chang said the struggle for independence is a path on which there is no turning back and that the dream of Taiwanese independence will inevitably be realized.
Comments will be moderated. Keep comments relevant to the article. Remarks containing abusive and obscene language, personal attacks of any kind or promotion will be removed and the user banned. Final decision will be at the discretion of the Taipei Times.