Wu blames government over violence
REFORM: The former vice president and KMT chairperson candidate said he hoped the government would listen to public opinion and promote a fair and just pension system
Former vice president Wu Den-yih (吳敦義) yesterday accused the government of treating pension reform protesters like the "enemy" with its "walls of barricades" around the Legislative Yuan, and triggering a violent reaction among demonstrators.
Speaking at a forum organized by Aboriginal supporters in Taipei, Wu, who is running for Chinese Nationalist Party (KMT) chairperson, said that the KMT did not want to see retirees take to the streets in protest, but understood that the protesters felt that their survival depended on it.
"It is not good to have the government resort to barbed wire and barricades, treating retired public servants, military personnel and teachers as if they were the enemy. That equipment only stirred up protesters' emotions," Wu said.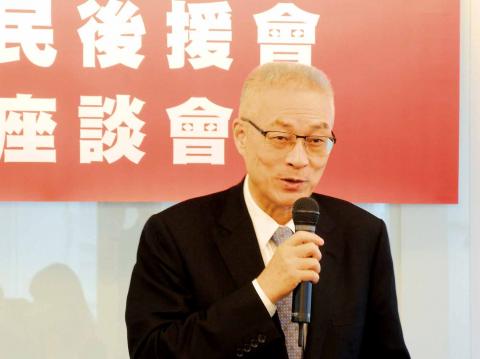 Speaking at a public event in Taipei yesterday, former vice president Wu Den-yih, who is a candidate in the Chinese Nationalist Party (KMT) chairperson election, questions the government's handling of Wednesday's protest against pension reform outside the legislature.
Photo: CNA
The public and the government have different views on whether the proposed pension reforms are just and fair, Wu said.
It was because of these differences that both sides took a step back on Wednesday and agreed to hold two public hearings on pension reform at the Legislative Yuan next week, the former vice president added.
Wu said he hoped the public hearings would take into consideration the public's opinions to promote a fair, just and harmonious pension reform.
The nation needs a strong party at large to offer an effective a counterbalance and oversight of the government, Wu said.
For the KMT, this is the first step that it has to take to achieve its goal of being voted back into power, he said.
Asked to comment on a recent poll showing him leading in the chairperson race, Wu said he did not know about the survey, but added that there was no time to rest as there is still one month until the vote.
Wu declined to comment on reporters' questions regarding an open letter published by a new party member openly supporting KMT Chairwoman Hung Hsiu-chu (洪秀柱) and calling on members to refuse to be "dummy members" and to make their votes count.
KMT caucus convener Sufin Siluko (廖國棟) praised the former vice president, saying he is humble, willing to listen and has the courage to make a stand.
"All of our preceding leaders lacked a little courage. As other [KMT chairperson] candidates have said, the party lost last year's elections because they possessed the five Confucian virtues,'" Sufin Siluko said.
Hung last month criticized former president Ma Ying-jeou (馬英九), who had served as KMT chairman for two terms, for being "so modest, gentle and courteous that he gave away his empire."
Comments will be moderated. Keep comments relevant to the article. Remarks containing abusive and obscene language, personal attacks of any kind or promotion will be removed and the user banned. Final decision will be at the discretion of the Taipei Times.