FEATURE: China's baristas take cues from Taiwan
LOCAL FLAVOR: Taiwan's interest in coffee developed during the Japanese colonial era. The nation's unique brand of coffee culture is receiving international recognition
Taiwan's coffee culture has become a touchstone for quality across the Strait. Several baristas in Shanghai said they are familiar with coffee industry techniques used in Taiwan and that they had received training from Taiwanese professionals.
Coffee industry professionals in Taiwan have won top prizes in various world competitions, including Berg Wu's (吳則霖) first place in last year's World Barista Championship in Dublin, Chad Wang's (王策) third place in last year's Taiwan Brewers Cup Championship, Lai Yu-chuan's (賴昱權) first place in the 2014 World Coffee Roasting Championship and Liu Pang-yu's (劉邦禹) first place at the 2014 World Cup Tasters Championship in Melbourne.
In authenticating craftsmanship and quality in the coffee world, competitions play an important role in helping industry professionals stand out, one Chinese barista told reporters, adding that Taiwan is often discussed enthusiastically among those in China's coffee industry.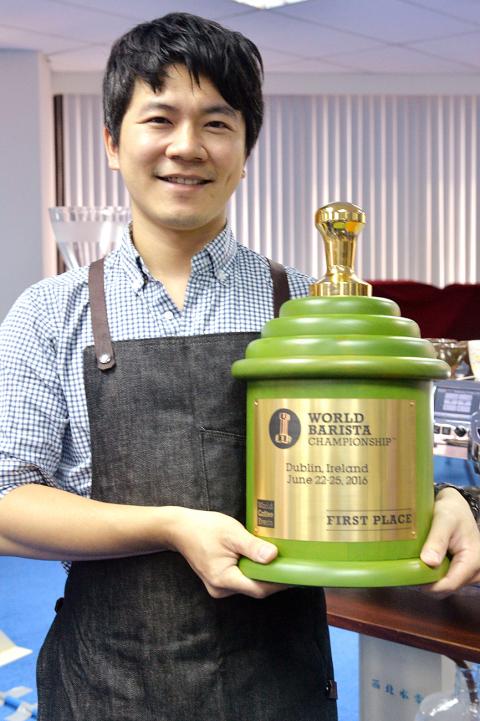 Berg Wu at a news conference in Taipei on 29 June last year holds up the trophy he received after winning first place at the World Barista Championship in Dublin.
Photo: CNA
Taiwan is recognized for its long tradition in the industry and for the skills and experience of its professionals, the barista said.
Wang Xiaofeng (王曉楓), the owner of a well-known independent Shanghai cafe named Moon Coffee, said Taiwanese entrepreneurs opened the first independent coffee shops in the city three years ago, inspiring locals with their elegant and unadulterated offerings.
The tendency of Taiwanese cafe owners to roast their own beans was eye-opening for residents, who were still used to thinking of Starbucks as the standard, Wang said.
Whenever coffee industry professionals in China gather together and talk about getting into the industry, they inevitably bring up their training at the hands of Taiwanese industry leaders, the barista said, citing world roasting champion Jake Hu (胡元正), latte art champion Van Lin (林東源) and coffee grading master Huang Chun-hau (黃俊豪).
These individuals run cafes, coffee production and distribution companies or training courses in Shanghai, the barista said, adding that their engagement with the industry has made them influential.
Lin, who first began conducting training seminars in China in 2005, said that many of her former students have gone on to run their own coffee shops.
"Taiwanese occupy a huge territory in China's coffee industry," Lin said.
Taiwan's first foray into China's coffee market was with the 1997 introduction of Ueshima Coffee Lounge, which introduced the concept of serving coffee and breakfast together to the Chinese. The chain later changed its name to Two Coasts Coffee and continued to expand.
Young people now regard chain stores, such as Ueshima, as obsolete, the barista said.
Instead, they look for inspiration in the many independent coffee shops in Taipei that reflect their dreams of running their own unique outlets.
Wang Xiaofeng said he has never been to Taipei, but knows that the city's small coffee shops have good sources for green coffee beans.
He said he talks to Taiwanese roasters in Shanghai to learn what he can about Taipei's high-quality cafes.
Taiwan's interest in coffee developed through the influence of Japan during the colonial period. Taiwan later developed its own unique coffee culture that has received international recognition.
USA Today called Taipei one of the top 10 cities worldwide for coffee in 2012, while the BBC in 2014 recognized the city as one of the six best worldwide for coffee drinkers.
Lin — who has been in the industry for 20 years — said he was apprehensive at first about his ability to excel as a coffee professional, seeing the industry as a Western venture.
However, after traveling widely, Lin said he realized that Taiwan is at the forefront in terms of coffee industry know-how.
The only difference between Taiwan and the West 20 years ago was that Taiwanese had not yet made coffee-drinking part of their everyday routine, Lin said, adding that this difference caused difficulties for Taiwan's coffee industry professionals.
Lin said Taiwan's outstanding performance in the industry has also had an impact in Southeast Asia, citing trips to the region during which he was invited to demonstrate his latte art skills or to judge competitions.
Lin said that Taiwan is considered to be an industry leader in Asia in Southeast Asia, where many nations have a high proportion of ethnically Chinese people who are happy to learn from Taiwanese professionals.
Taiwanese photography instructor Wu Ping-tse (吳秉澤), who also operates a reservation-only cafe in Shanghai, said Taiwanese consumers differ from those in China in that they are already familiar with high-quality coffee.
Lin said that for many Chinese going to a cafe is a fashionable thing to do, whereas Taiwanese usually see cafes as places for rest or interaction with others.
"It is rare in Shanghai to see people reading or relaxing in coffee shops like you would see in Taiwan," he said.
Comments will be moderated. Keep comments relevant to the article. Remarks containing abusive and obscene language, personal attacks of any kind or promotion will be removed and the user banned. Final decision will be at the discretion of the Taipei Times.