Group opposing gay marriage to focus on drugs
SOCIETAL CONSENSUS: The Baby's Breath Anti-Drug Front said it would link drug use with homosexuals in a bid to indefinitely postpone legalizing same-sex marriage
Leaders of the now-defunct Baby's Breath Layman Alliance yesterday denied backing down from opposing same-sex marriage as they held their first protest as the Baby's Breath Anti-Drug Front.
"We still oppose the legalization of homosexual marriage without first achieving a social consensus because of the huge potential for effects on society. The government pushing for legalization without seriously weighing the consequences is rash and ignores the heartfelt views of ordinary parents," group member Lin Shih-ming (林仕明) said.
Lin led about 20 people in a protest outside the Taipei District Prosecutors' Office to demand that two doctors be prosecuted and their medical licenses be revoked for what the group claimed was their promotion of recreational drug use in public speeches on HIV/AIDS prevention.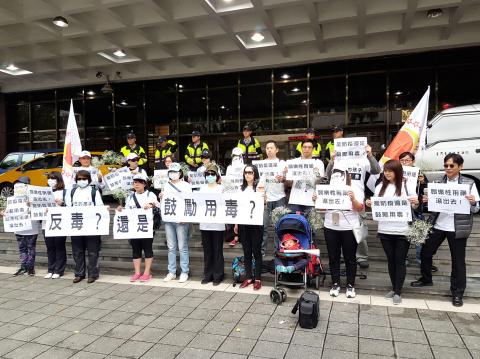 Baby's Breath Anti-Drug Front members protest outside the Taipei District Prosecutors' Office yesterday.
Photo: Hsieh Chun-lin, Taipei Times
Baby's Breath Layman Alliance rose to prominence last month, when it organized a large protest outside the Legislative Yuan in Taipei to oppose "rainbow terror," same-sex marriage, homosexual education and extending National Health Insurance program coverage to foreigners with HIV/AIDS.
However, the group's leaders earlier this month unexpectedly announced that they were no longer "willing to play" with church leaders in opposing same-sex marriage, changing the group's name to the Baby's Breath Anti-Drug Front.
"While we originally directed our efforts against the homosexual movement, we later found that the harm to children caused by drugs is more immediate, deep and wide-ranging, so we have chosen to focus on this particular issue," group member Cheng Kang (承康) said. "We want to have a clear focus. Other issues [related to the homosexual movement] are already being addressed by other groups."
"Right now there is no societal consensus on homosexuality or same-sex marriage, but there is a consensus on drugs, which are closely linked to homosexual groups," group coconvener Tsou Ting-hung (鄒廷鴻) said. "We have switched our focus to opposing drugs because problems associated with gay men stem from widespread recreational drug use, which in turn promotes the spread of AIDS. This is an issue we can build a better societal consensus around."
In contrast to religious groups' opposition to homosexual behavior and a focus on "redemption," the Baby's Breath Anti-Drug Front is primarily concerned with reducing negative effects to society, including expenses associated with treating AIDS and drug addiction, he said, adding that the change of focus followed criticism from religious groups.
"Our first objective is to stem the flood of recreational drugs and then show their link to the homosexual movement," Tsou said. "If that becomes a societal consensus, postponing the legalization of same-sex marriage indefinitely would be a natural next step."
Comments will be moderated. Keep comments relevant to the article. Remarks containing abusive and obscene language, personal attacks of any kind or promotion will be removed and the user banned. Final decision will be at the discretion of the Taipei Times.