Uber not welcome if fines go unpaid, minister says
IMPERFECT SOLUTION: Taiwan Uber Drivers Alliance representative Adam Shen said a partnership with car rental firms would benefit only a fraction of former drivers
Uber would not be welcomed back to Taiwan if it refuses to pay penalties owed to the government, Minister of Transportation and Communications Hochen Tan (賀陳旦) said yesterday.
Hochen made the remark during a meeting of the Legislative Yuan's Transportation Committee, whose members were scheduled to unfreeze the budgets of some agencies under the Ministry of Transportation and Communications.
Lawmakers focused questioning on how the ministry would react to the ride-sharing service provider's return to the nation.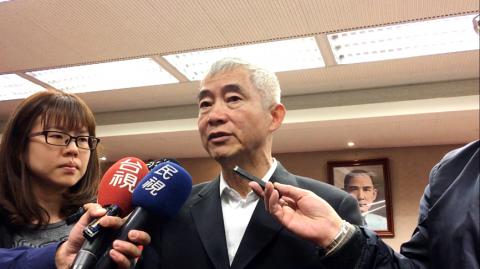 Minister of Transportation and Communications Hochen Tan, center, speaks to reporters at the Legislative Yuan in Taipei yesterday.
Photo: Hsiao Yu-hsin, Taipei Times
Democratic Progressive Party Legislator Cheng Pao-ching (鄭寶清) said the ministry's relationship with Uber was like that of a man with an ex-girlfriend who broke up with him.
The ministry and Uber "broke up" because the ministry did not agree with the firm's hiring of unlicensed vehicles and drivers to offer a taxi service, as well as its failure to pay taxes on revenue earned in the nation, he said.
Uber's failure to purchase insurance required to operate a taxi service and its fickleness in operational strategies led to the two parting ways, he added.
Pressed by Cheng, Hochen said that Uber must pay the penalties it owes the government, otherwise the ministry would not welcome its return.
The firm partnering with car rental operators would fulfill legal requirements as long as Uber only serves as a platform to match requests from users with legal service providers, which would differ from the model it previously employed, in which it recruited drivers without taxi licenses to provide transportation services, he said.
Apart from the NT$830 million (US$27.4 million) in penalties it owes the ministry, Uber has also failed to pay the Ministry of Finance NT$135 million in revenue tax, Hochen said, adding that the government would not forgive such debts.
The transportation ministry cannot prevent Uber from working with legal car rental firms, Hochen said, but added that such providers should consider all possible scenarios, including what they would do if Uber leaves Taiwan because of the penalties.
Prior to announcing its return yesterday, Uber had asked its former drivers in the nation to provide a commercial vehicle driver's license and other documents, saying that it would match them with affiliated car rental companies.
Hochen said that Uber executing such plans would be illegal, because car rental companies are required to have their own fleet of vehicles and hire their own drivers, adding that they cannot hire outside drivers and ask them to use their cars to offer services.
Taiwan Uber Drivers Alliance representative Adam Shen (沈柏耀) said that there are about 10,000 former Uber drivers in the nation, of whom about 20 to 30 percent are licensed to drive rental cars, adding that Uber's decision to partner with car rental firms would not benefit the majority of its former drivers, as most would be unable to continue working with the firm.
Drivers would need to "obtain a commercial vehicle driver's license and be hired by a car rental operator, which would charge drivers NT$1,000 to NT$2,000 per month to be listed on its payroll," Shen said. "Drivers would also have to start paying vehicle registration and fuel taxes based on rates for commercial vehicles."
"It would not be worth it for those who only drive part-time for 10 hours per week, as the overhead would increase," he added.
Comments will be moderated. Keep comments relevant to the article. Remarks containing abusive and obscene language, personal attacks of any kind or promotion will be removed and the user banned. Final decision will be at the discretion of the Taipei Times.