Taipei mayor to invite Xi to Taipei Universiade
'NOT THAT GREAT' As the games are to be held during typhoon season, leeway days are to be allocated in case of cancelations, the organizing committee spokesman said
Taipei Mayor Ko Wen-je (柯文哲) yesterday said he is unlikely to meet Chinese President Xi Jinping (習近平) when he visits China in June for the Taipei-Shanghai Forum, but will forward an invitation for Xi to attend the opening ceremony of the Taipei Summer Universiade in August.
When asked by Chinese Nationalist Party (KMT) Taipei City Councilor Chin Huei-chu (秦慧珠) to comment on news reports indicating a possible Ko-Xi meeting in June, the mayor said: "I am not that great."
Ko said the Taipei City Government is in the process of organizing dates for the forum with Shanghai officials, who are considering holding it from June 25 to 27.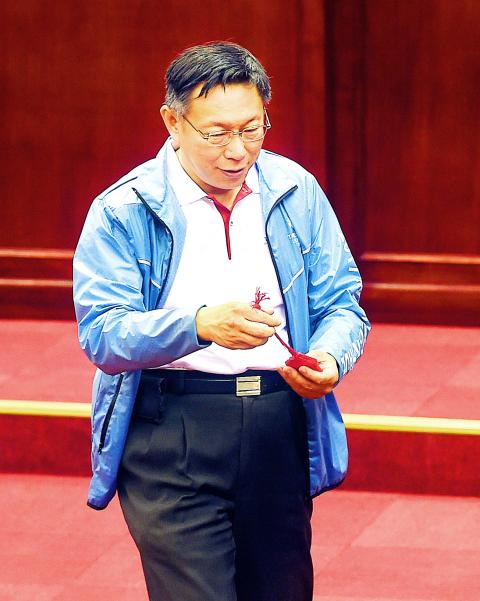 Taipei Mayor Ko Wen-je yesterday holds up a lucky charm that he was given by Democratic Progressive Party Taipei City Councilor Lin Shih-tsung during in a question-and-answer session at the Taipei City Council.
Photo: Fang Pin-chao, Taipei Times
He said his delegation is considering visiting Beijing to deliver an invitation to officials overseeing China's preparations for the Universiade.
Chin asked Ko whether he would invite other high-ranking Beijing officials should Xi turn down his invitation, to which Ko replied: "[The plan] is not that grand."
Ko said the purpose of his visit is to increase cross-strait exchanges and goodwill.
Taipei City Government Secretary-General Su Li-chung (蘇麗瓊), who heads the Taipei Universiade Organizing Committee, said that she had delivered an invitation to Beijing officials last year during a visit to promote the Universiade, with Beijing agreeing to send a delegation to compete in the sporting event.
When Chin asked how many heads of state the committee plans to invite, Su said that the committee would assess the offices held by foreign officials and consult with the International University Sports Federation before sending out invitations.
Democratic Progressive Party (DPP) Taipei City Councilor Lin Shih-tsung (林世宗) said that the Universiade is one of Ko's nemeses standing in the way of his re-election next year.
The Universiade is to run from Aug. 19 to 30, during the typhoon season, and some matches might be interrupted or delayed, Lin said.
Committee spokesman Yang Ching-tang (楊景棠) said that the committee would allot "leeway days" during the games, on which matches delayed due to the elements can be resumed.
If there is not enough time for all matches in a sports category to be completed, all finalists will be awarded gold medals, he said, citing the baseball in the 2015 Universiade in South Korea as an example.
DPP Taipei City Councilor Hsieh Wei-chou (謝維洲) asked Ko what he would do if Chinese athletes protested against Taiwanese spectators bringing the national flag to cheer for the national team.
Ko said that to avoid interrupting the games, he would not take any action.
Su said that according to International Olympic Committee rules, spectators can bring their national flag provided they are not attached to masts.
Yang said that to avoid blocking the audience's view, the size of national flags, along with other props, carried by spectators would be subject to limitations, which are to be announced in June.
Comments will be moderated. Keep comments relevant to the article. Remarks containing abusive and obscene language, personal attacks of any kind or promotion will be removed and the user banned. Final decision will be at the discretion of the Taipei Times.