Railways union urges ministry to stand up to TRA
The Ministry of Labor should stand up to the Taiwan Railways Administration (TRA) over the enforcement of labor rules, the Taiwan Railways Union said yesterday, accusing the agency of disrespecting the ministry's Unfair Labor Practices Adjudication Board.
About 20 union members and labor rights advocates joined the board's first hearing on the TRA's response to union members "taking a legal holiday" during the Lunar New Year holiday.
"The Taiwan Railways Administration should wait for the board's ruling before making any decision. If it continues to mark our members as being absent without leave, even if the board rules to the contrary, that would be tantamount to holding the board's ruling in contempt," union president Wang Jieh (王傑) said, criticizing TRA Director-General Jason Lu's (鹿潔身) statement that the agency would hand out demerits to union members regardless of the board's ruling.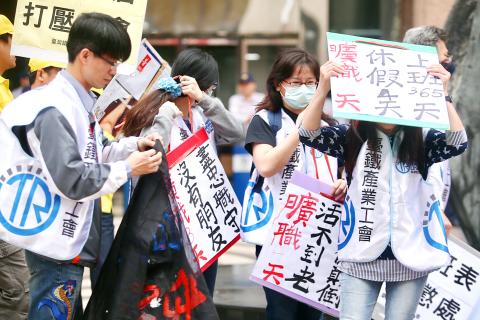 Taiwan Railways Union members demonstrating outside the Ministry of Labor in Taipei yesterday hold placards showing the number of days they took off during the Lunar New Year holiday.
Photo: CNA
Union members refused to work during the Lunar New Year holiday to protest the agency's refusal to consider shift changes, saying they were entitled to time off during the national holiday.
Lu has said that while the agency would wait until after the board's ruling to announce the names of those who will be punished, its decision will be based solely on the ruling of an internal employee evaluation committee, with 331 union members to be given major or minor demerits.
Wang said the agency's shift structure has no legal foundation following the expiration of an administrative rule.
He called on the ministry to push for shift reform.
The union says that the system denies them a "mandatory rest day," because the revolving shift structure includes no guaranteed day off.
While an adjudication board ruling in the union's favor would allow the Ministry of Labor to fine the TRA, the agency could still issue demerits, despite the penalty, union consultant Cheng Ya-lin (鄭雅菱) said.
The union plans to bring an administrative lawsuit against the TRA if it maintains its course of action, Cheng said.
Ministry of Labor Department of Employment Relations Director Wang Hou-wei (王厚偉) said that the board is expected to issue a ruling before June.
Comments will be moderated. Keep comments relevant to the article. Remarks containing abusive and obscene language, personal attacks of any kind or promotion will be removed and the user banned. Final decision will be at the discretion of the Taipei Times.