NPP leader Huang threatens lawsuit over Hung remarks
New Power Party (NPP) Executive Chairman Huang Kuo-chang (黃國昌) yesterday threatened to take legal action against Chinese Nationalist Party (KMT) Chairwoman Hung Hsiu-chu (洪秀柱) for saying that Huang supported lifting a ban on imports of Japanese food products from prefectures near the 2011 Fukushima Dai-ichi nuclear power plant disaster and the decriminalization of drugs.
The furor began on Monday, when Hung said during a visit to Chiayi City that she supported a recall campaign initiated last year by civic groups against Huang.
"Huang's support for the lifting of the ban on Japanese food products and the decriminalization of drugs, as well as his blind conformity to the Democratic Progressive Party's [DPP] illegal actions, have triggered a public outcry," she said, adding that she welcomed the recall campaign.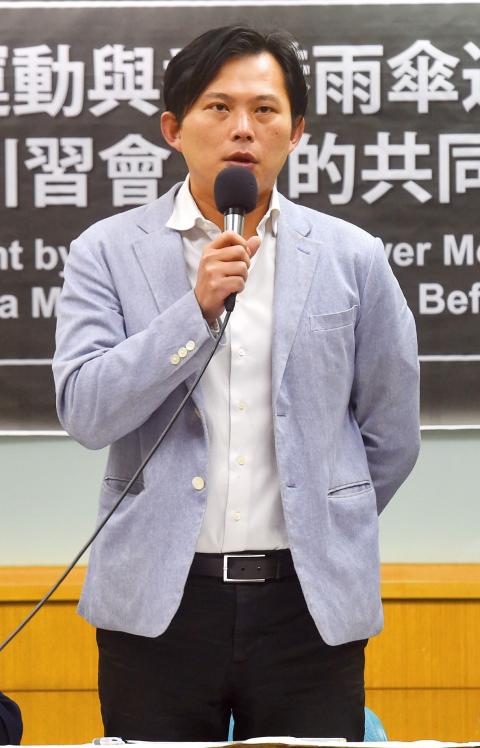 New Power Party Executive Chairman and Legislator Huang Kuo-chang speaks at a news conference in Taipei on Sunday.
Photo: Chien Jung-fong, Taipei Times
The campaign was launched by an alliance of New Taipei City residents against same-sex marriage over Huang's support for the legalization of gay marriage.
Campaign organizers last month claimed to have gathered more than 15,000 signatures, about 11,000 short to initiate a recall vote in Huang's constituency, New Taipei City's 12th electoral district, which covers Jinshan (金山), Wanli (萬里), Sijhih (汐止) and other districts.
Hung's remarks drew an immediate response from Huang, who later on Monday on Facebook said it was regrettable that she tried to smear his reputation with fabrications and demanded evidence to support her claims or a public apology within 48 hours.
Hung yesterday on Facebook said she was puzzled by Huang's threats of a lawsuit.
"Huang has always presented himself as a champion of civil rights. I was merely repeating the public's opinion about him, so why did he get so angry? Is he trying to shift the focus and assuage his constituents' anger by suing me?" Hung said.
She urged Huang to clearly explain his stance on both issues, saying that she would be willing to apologize if he would join forces with the KMT to fight the DPP's problematic policymaking.
Huang later accused Hung of playing dumb and said she lacks the courage to admit her mistakes.
"As Chairwoman Hung said she was puzzled, then I have no choice but to make her understand through legal means," Huang said, adding that given the past performance of the KMT and Hung, they are not qualified to lecture the NPP on how to be a competent opposition party.
Comments will be moderated. Keep comments relevant to the article. Remarks containing abusive and obscene language, personal attacks of any kind or promotion will be removed and the user banned. Final decision will be at the discretion of the Taipei Times.