Photovoltaic power plant to open next year: Nantou
'GREEN' TOURISM: The entrance of the plant is to be turned into a park, and its elevated position would afford visitors a panoramic view of the facility, an official said
A photovoltaic power plant to be built in Nantou County's Checheng Township (車埕) should begin operations next year, and would produce enough electricity to meet the needs of up to 900 local families, the Nantou County Government said.
The land for the plant was originally earmarked for a cable-car line to Sun Moon Lake (日月潭), but the county said the firm responsible for building the line pulled out of the project following last year's amendments to the Environmental Impact Assessment Act (環境影響評估法).
The amendments stipulate that all ongoing environmental assessments had to be returned to the central government for review and the company feared that stricter environmental evaluations would entail financial losses, the county government said.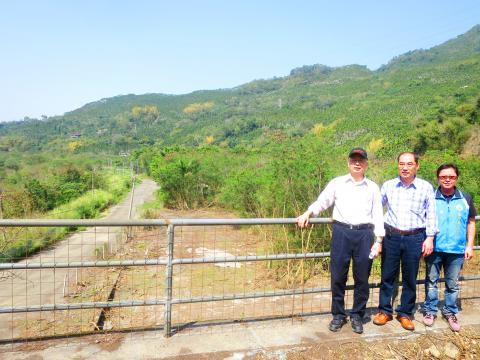 Taipower Mingtan plant director Hsieh Peng-chou, left, Shuili Township Mayor Chen Kui-you, center, and Nongfu Village Chief Chen Chao-hsi pose for a picture in Nantou County's Shuili Township where a photovoltaic power plant is being planned.
Photo: Liu Pin-chuan, Taipei Times
The Checheng Township Office signed a contract with Taiwan Power Co (Taipower) to build the solar power plant — the county's first — hoping to attract "green" energy tourism, the county said.
Plant director Hsieh Peng-chou (謝鵬洲) said Taipower is glad to promote green energy while making constructive use of the land.
The plant is projected to cover 16 hectares and generate up to 1,800 kilowatts per hour, Hsieh said, with the first installment of panels expected to cover 2 hectares.
Depending on weather conditions, the plant should provide enough power for the needs of between 160 and 900 families, Hsieh said.
The plant would have facilities to train personnel how to perform maintenance on the panels, Hsieh said, adding that an area would be set aside to safely store excavated mud, stone and wood so that they do not contaminate a nearby reservoir.
The whole plant would be open to the public, Hsieh said, adding that the government is expecting the project to cost NT$180 million (US$5.94 million).
The entrance of the plant will be turned into a park, and its elevated position would afford visitors a panoramic view of the facility, Shuili Township Mayor Chen Kui-you (陳葵佑) said.
A biking path would be constructed along Shuili Creek (水里溪), Chen said, adding that cyclists would also be able to see small-gauge trains from Jiji Station (集集) passing by.
Once the paths from Shuili Township (水里鄉) are connected to Checheng, visitors would be able to visit Checheng by bicycle and enjoy the scenery of rural Taiwan, Chen said.
Comments will be moderated. Keep comments relevant to the article. Remarks containing abusive and obscene language, personal attacks of any kind or promotion will be removed and the user banned. Final decision will be at the discretion of the Taipei Times.