Kao convicted for egging official
EGGED ON: The student in July last year broke an egg over the head of a Ministry of Education official during a protest over the rights of students working as assistants
The Taipei District Court yesterday sentenced National Chengchi University student Kao Juo-hsiang (高若想) to a 20-day detention for egging a Ministry of Education official during a protest last year.
Kao was convicted of insulting a public servant, the court said, adding that the detention is commutable to a fine and can be appealed.
Kao in July last year took part in a protest pressuring the ministry to abolish regulations governing the rights of university students working as part-time teaching assistants.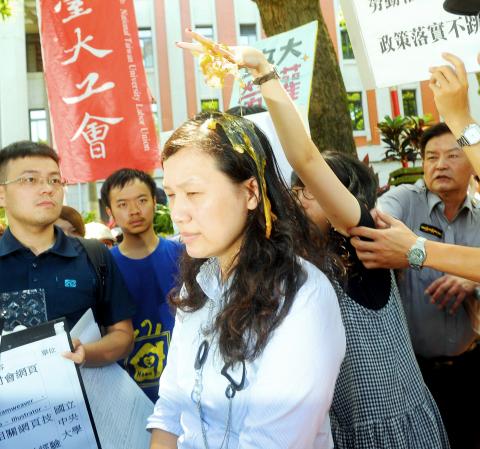 Chengchi University student Kao Juo-hsiang eggs Ministry of Education senior specialist Wang Shu-chuang on July 4 last year during a protest in Taipei.
Photo: CNA
Protesters said the regulations allow schools to exploit students — for example, by assigning them work that should be performed by faculty — without providing funds for their pensions, and urged the ministry to formulate rules that would allow students to be covered by the Labor Standards Act (勞動基準法), thereby granting them equal rights.
The ministry sent senior specialist Wang Shu-chuang (王淑娟) to meet with the protesters, but they demanded to speak to higher-ranking officials.
During the protest, Kao cracked an egg over Wang's head, prompting an investigation and the prosecution of Kao, whose offense was indictable.
Kao in court hearings said she and other protesters had planned to throw eggs at the ministry, and that the idea of egging an official was her own.
She pleaded innocent, saying her action was meant to protest the ministry's "illegal" regulations and that she had no intention of insulting a public servant.
Ministry Department of Higher Education Director Nicole Lee (李彥儀) said she hopes Kao would learn from this incident.
The ministry held several meetings with students concerned about the issue, which Kao attended, Lee said, urging Kao to express her opinions rationally and not through improper means.
The regulations governing students working as teaching assistants are to be revised so their responsibilities could be more clearly defined, Lee said.
The ministry said it is to hold hearings at universities and follow up on progress toward formulating rules defining students' work.
Kao could not be reached as of press time last night.
Additional reporting by Rachel Lin
Comments will be moderated. Keep comments relevant to the article. Remarks containing abusive and obscene language, personal attacks of any kind or promotion will be removed and the user banned. Final decision will be at the discretion of the Taipei Times.