Hsu to accept resignation of office director
DEATH WISH: Hsu Kuo-yung's office director, Connie Lin, resigned after saying online that pension reform protesters should 'die early on Tomb Sweeping Day'
Executive Yuan spokesman Hsu Kuo-yung (徐國勇) yesterday said he would accept the resignation of his office director over her controversial remarks urging public-sector workers protesting pension reform to "die early," but called on a Chinese Nationalist Party (KMT) councilor who asked for President Tsai Ing-wen's (蔡英文) head to also take responsibly for his words.
Hsu said he has asked his office director, Connie Lin (林育卉), to temporarily leave her post after her controversial remarks on Facebook were brought to his attention on Thursday.
Hsu said he had no comment on Lin's personal opinions, but does feel it is inappropriate for someone working for a government agency to post emotional rhetoric online.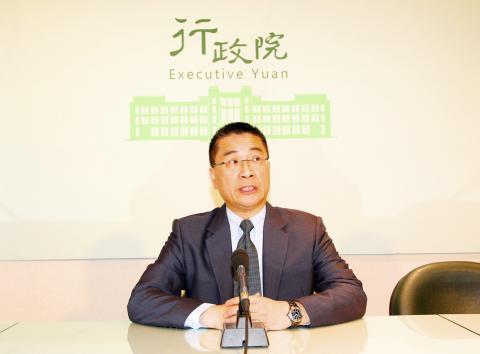 Executive Yuan spokesman Hsu Kuo-yung speaks at a news conference at the Executive Yuan in Taipei yesterday.
Photo: CNA
"Lin explained to me that her emotional comments were a reaction to KMT New Taipei City Councilor Lin Kuo-chun (林國春) asking other protesters: 'Shouldn't she [Tsai] be killed?'" Hsu said.
Hsu said Connie Lin was also upset that KMT Chairwoman Hung Hsiu-chu (洪秀柱) criticized her, but had not held Lin Kuo-chun to the same ethical standards.
Connie Lin posted the apparently sarcastic comment on Facebook on Thursday, a day after retired police officers and firefighters paralyzed the streets of Taipei protesting against the government's pension reform plans.
Lin Kuo-chun, who is also president of the New Taipei City Retired Police Association, was among the protesters.
"To uphold righteousness, I stopped my friends from criticizing them [retired public-sector workers] for receiving too high a pension, from ridiculing them for taking turns to stage hunger strikes, and from being envious of their ability to use their pension to travel, and buy cars and houses," Connie Lin wrote.
She said that she has put up with these people for a long time, adding that they should "die early on Tomb Sweeping Day."
Hung was quick to condemn Connie Lin, saying on Facebook later that day that her comments revealed what the Democratic Progressive Party (DPP) truly thinks about public-sector workers, and how the party is "cold-blooded, ignorant and brutal."
KMT Culture and Communications Committee deputy director Tang Te-ming (唐德明) accused Hsu at a news conference in Taipei of letting his office become "a base of hatred."
KMT caucus convener Sufin Siluko (廖國棟) said Connie Lin's post was "extremely offensive" and had disgraced the Executive Yuan.
"It is like tyranny," he said.
DPP Legislator Tsai Yi-yu (蔡易餘) said Connie Lin's remarks were "a bit over the top."
"Hsu quickly made the decision to suspend her and I hope both sides of the argument on pension reform exercise restraint and keep their discussions free of profanities and insults," he said.
DPP Legislator Huang Wei-cher (黃偉哲) said Connie Lin is an outspoken person with "a sense of justice," but there is a clear boundary between the private sphere and the public arena.
DPP spokesperson Ruan Jhao-syong (阮昭雄) urged the KMT and Lin Kuo-chun to apologize for the latter's speech on Wednesday suggesting that the protesters attack the president.
Additional reporting by Alison Hsiao
Comments will be moderated. Keep comments relevant to the article. Remarks containing abusive and obscene language, personal attacks of any kind or promotion will be removed and the user banned. Final decision will be at the discretion of the Taipei Times.